Adam Gemili: British sprint star
UK sprinter Adam Gemili talks about preparing for the Olympics in Rio 2016 while juggling studying and training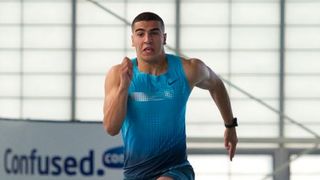 (Image credit: Unknown)
You're at university at the moment. How do you fit in the time for training, studying and socialising?
It's difficult, very difficult. I train early in the morning and then in the evenings and try to see my friends in between then. It's hard but it's all about hardcore time management.
What's the best training advice you've ever been given?
To be patient. If you learn at your own pace, you develop at your own speed. You don't have to rush that by going to the gym a lot or increasing your training. You improve at your own thing and you've just got to be patient. If you work hard enough your time will come.
Why do you think British sprinting has had such little success in recent years?
I'd argue with that – I'd say it's not a lack of success, I'd say there's been a gap where not that many British sprinters have come through. Luckily that's changing now and young British sprinters are able to challenge senior guys all over the world, and we're only getting quicker and closer to gold.
Usain Bolt famously said he eats chicken nuggets before a race. Have you got any particular pre-race meals?
No, I keep it simple. I just do what I've got to for my race and try not to get myself too worked up and nervous. So no special drink or food beforehand for me.
Are you already planning for the Rio Olympics? How do you think you'll do?
It's been in the back of my mind. I'll be at the age where I'm at my optimum [he'll be 22], so hopefully I'll do well.
You say 'hopefully I'll do well', but will you be going for gold?
Yeah! If you're going to aim big you've got to be the biggest. Gold is what I'm training for and what I want to get.
What's the most important part of a 100m race for you?
The start. If you don't get a good start you've got to make up for it in the rest of the race and at the top level that's very hard. If you don't set up for the race well, get a good reaction time or get a good drive phase, it'll be very difficult to run a good 100m.
To the average observer the 100m is over in a flash, but can you explain the different phases of a race?
I break the race down into three or four parts: the split out of the blocks, the drive phase, the transition phase into running and then upright running where you're just accelerating and gaining speed. There are a lot of different aspects to it and a lot of hard work goes into each one – it's definitely not as easy as it can look.
Is there a particular exercise you do that has a particular benefit for your running times?
I don't think there is any one exercise. I think there are a lot of different exercises that work different muscles of your body. You need good abdominal strength, which surprises most people, so I do a lot of double-leg lowers and sit-ups and stuff like that. Abs strength is what helps me stay low through the drive phase and get as good a start as possible.
Confused.com worked with Adam Gemili on Man vs Robot ahead of their new advertising campaign.
Sign up for workout ideas, training advice, reviews of the latest gear and more.
Max was the head of digital content for Men's Fitness which worked alongside Coach between 2015 and 2019.