Simone Moro Interview
We catch up with alpine climber Simone Moro as he attempts to become the first person ever to scale Nanga Parbat in winter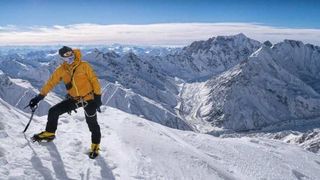 (Image credit: The North Face/David Goettler)
Why do you think there has never been a successful winter ascent of Nanga Parbat?
Nanga Parbat is one of the eight-thousanders [peaks over 8,000m], so before taking into account other factors, it's one of the highest peaks in the world. Beyond this, the location of the mountain is a contributing factor. Nanga Parbat is isolated without much protection. As a result, conditions are often windy and dangerous. Finally, each route to the summit is very long and difficult.
At home I trained every day in preparation to be as quick as possible on the mountain. I try to use the right strategy, going up and down as fast as possible to give us the best chance at making the summit.
How do you mentally prepare for a task like this?
This is my 12th winter expedition so I've trained myself for these kinds of challenges. The adventure is more of a mental game than a physical one, but nearly 30% of my all expeditions have been in winter so I know what to expect.
It's important to be in a good mood, to stay positive and not to be constantly obsessing about the climb and summit. To maintain high spirits we write emails, read the news, talk with the team here and take pictures of the incredible scenery.
How did it feel having to abort your previous attempt in 2012?
We had no choice but to abort the expedition due to terrible conditions. I was thankful in any case for the unforgettable experience. When it comes down to it this is my life, my job, and my dream. I will continue to push myself on these adventures for many years yet before it's time to relax.
What advice would you offer people interested in taking up mountaineering?
A well co-ordinated team is vital. My partners are first and foremost my friends, then they are my climbing partners. You need to enjoy and be passionate about mountaineering before giving it a go. This means that you must look for joy and not fame or success. We have to look for a way to challenge ourselves in life and not for a way to die. Fun and life must always come first.
Simone Moro is a global athlete for The North Face
Sign up for workout ideas, training advice, reviews of the latest gear and more.
Alex Harris wrote for Men's Fitness, which predated then shared a website with Coach. Alex earned a MA in journalism from Kingston University and after contributing to Men's Fitness worked for Express Newspapers as a journalist and editor for six years.