Eddie the Eagle interview
The legendary British ski jumper on a potential comeback and how he prepared for the 1988 Calgary Games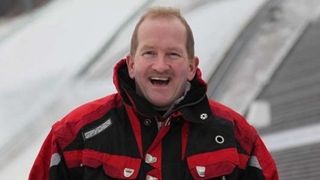 (Image credit: unknown)
How did you find working on The Jump?
It was brilliant getting celebrities to do winter sports, I loved doing it. It was great to get back on my jumping skis again for the first time in 17 years and it's given me the buzz to try and do a bit more jumping in the future.
Does that mean you'll be making a comeback?
I'm in better shape now than when I went to Calgary 26 years ago so the sky's the limit. Skiing equipment has changed so much over the past 20 years and it's easier to jump now with the new equipment, so when I get used to that I want to see if I can jump further now than I could 26 years ago.
Why do you think Britain loves an underdog?
We don't need sport to define us as a country and because of that we can celebrate not only the guys who win but the underdogs as well – we appreciate people giving their best. There are a lot of other countries that peg their identity on sport and how they perform, like the Americans and Australians who are almost saying, 'unless you win a gold medal don't come back'. I don't think that's a very nice or healthy attitude to take.
How did you come to take up skiing?
I went on a school ski trip when I was 13 years old. When I came back I asked my Dad if he would take me to Gloucester Ski Centre so I started skiing there on a Sunday morning, then it became all weekend and it snowballed from there. I could be as good as I wanted to be because it was an individual sport, if I wanted to be the best I had to train and perform.
How did it feel to be such a pioneer for British winter sport?
I think people really appreciated my efforts in getting to the games in Calgary and being Britain's first ski jumper. It's such a powerful message that this amateur sportsman managed to get to the Olympic Games competing as the tiny little David against these Goliaths of ski jumping. I guess it exemplified the Olympic spirit.
Didn't you stay in a mental hospital in Finland during training?
I was training with the Finnish team in Kuopio and I had nowhere to stay so they allowed me to stay there for four weeks as it was close to the jumps. A year later they told me it was Finland's equivalent to Broadmoor but my ski jumping went from strength to strength.
Do you think that being so dedicated is what makes a sportsman?
Yes, I think so. Athletes have it given to them on a plate these days, which means they can concentrate on their sport whereas I had to find somewhere to live, eat and get my equipment so I was doing the best that I could.
What advice would you give to anyone thinking about training for an event like the Sainsbury's Sport Relief Games?
I think anybody should get out there and give it a go because that interest could turn into a passion for the sport. Stick to it, do whatever you can to get out there and enjoy it.
If you've been inspired by the Sochi 2014 Winter Olympics then sign up for your own challenge at the Sainsbury's Sport Relief Games, 21st-23rd March. You can run, swim or cycle different distances and raise money to help transform lives in the UK and around the world by entering at sportrelief.com
Sign up for workout ideas, training advice, reviews of the latest gear and more.
Coach is a health and fitness title. This byline is used for posting sponsored content, book extracts and the like. It is also used as a placeholder for articles published a long time ago when the original author is unclear. You can find out more about this publication and find the contact details of the editorial team on the About Us page.