The best men's summer wear
Upgrade your wardrobe this summer with four of the freshest pieces of warm-weather clobber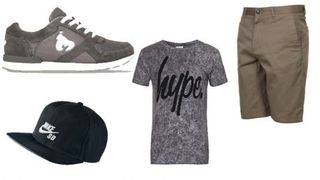 (Image credit: Unknown)
Hype Black Speckle Flock T-shirt
Edgy British street wear brand Hype has defied to the odds to blend skate-style tie-dye and a massive hip-hop inspired logo in a grown-up way, and they've done it by using dark understated colours and keeping the pattern simple. The result is a Tee you can wear on the beach or at a barbecue without looking like you're trying to hard to be down with the kids, while still actually looking like you're down with the kids.
Price
£24.99
---
As iconic-looking as anything the big footwear brands have put out over the last 20 years, this chunky throwback of a sneaker will have men who grew up in (and still pine for) the 90s salivating. But it's not just about making you looking like the coolest kid on campus, this action-loving shoe is as good for a kickabout as it is for bar hopping. That's down to its cushioning memory foam insole, supportive EVA midsole and a snug heel stabilizer. And when it's time to stamp some primal authority all over a situation, the monkey logo will help you channel your inner silverback.
Price
£42.25
---
Volcom Frickin Modern stretch shorts
Cotton shorts look smart and are light enough to keep you cool during summer but the problem with most pairs is that the second you start moving around vigorously in them, say when you're longboarding or slack lining, you're likely to tear the crotch wide open, revealing your unmentionables to the world. Not the case with these shorts – they're constructed from stretch cotton twill so they've got a lot of extra give as well as a wealth of front and back pockets to keep your nik-naks safe. There's also no need to worry about them shrinking because they come pre-laundered.
Price
£39.99
---
Nike SB Icon Snapback cap
Snapbacks went out of fashion for a while with fitted caps becoming the go to choice for headwear-savvy chaps. In the last couple of years, however, they've enjoyed a bit of a resurgence thanks to their timeless look and because you can tighten or loosen them. This is essential when you want to keep one attached to your bonce during a jungle gym training session and then give it a bit of breathing room during a well-earned lie-down in the park once you've finished. This Nike one combines a minimalist logo and go-with-anything black polyester so you can rock it with block colours or fluro tie-dye (if that's your thing).
Price
£25
Sign up for workout ideas, training advice, reviews of the latest gear and more.
Nick Hutchings worked for Men's Fitness UK, which predated, and then shared a website with, Coach. Nick worked as digital editor from 2008 to 2011, head of content until 2014, and finally editor-in-chief until 2015.