Mark Wright talks training
Ex-TOWIE star Mark Wright on exercise, supplements and eating clean most of the time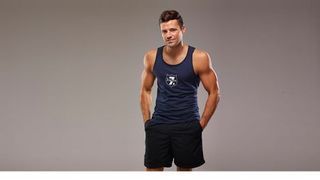 (Image credit: Unknown)
You're now an ambassador for the Super 7 supplement range, can you describe your approach to training and nutrition beforehand?
Kind of similar really. I was using different brands for different things but now this Super 7 range has all the stuff I've used over the years, put into one. Right now I'm trying to bulk up so I'm mostly using the Super 7 Gain Post Workout Deluxe. I'll always have a shake straight after a workout, but the carb to protein ration changes depending what I'm training for at that point.
Describe a typical week's training for you
I train four times a week and mix it up each time. I do chest one day, back one day, shoulders one day, and chest again. I do four exercises on each body part, then I might drop the set at the end and do a superset. I don't have a personal trainer, however my friend Kenzie used to train me, so I've learnt everything from him really.
Are you training for any particular sports or just to look your best?
I would be lying if I said I didn't go to the gym to look good, but now I've been doing it so long it's just part of my life and it feels strange if I miss a session. Having said that, I did think about doing the marathon last year, but it was too much time doing running training, which would have kept me out of the gym doing strength stuff. I'm really competitive so if I did it I'd want to really go for it, not just do it as a laugh. I would change my supplements to start losing weight and taking pre-workout boosters to keep my energy levels up on long runs and stop my body from eating into its muscle stores for fuel. My target time would be less than 4 hours.
What's your approach to nutrition? Do you try to eat clean all the time?
I try to, but I'm not overly strict on myself, for instance I literally just had a sausage even though I've already eaten lunch! Having said that, I always break up the diet half and half, so I'll go to Nando's and have the chicken and veg but lose the chips – and probably nick a couple off anyone who does order them. I love Indian food too. Korma and Tikka Masala are my favourite guilty pleasures. When it comes to healthy food, it doesn't need to be boring or bland though. My mate owns a Turkish restaurant called Sheesh in Essex, it's all meat and salad. Super healthy stuff but it tastes amazing. If you don't believe me, ask all the bodybuilders who go there. It's a local favourite of fans of healthy food that also happens to be mouth-wateringly good.
Mark Wright spoke to MF at the launch of the new Super 7 supplement range (opens in new tab).
Sign up for workout ideas, training advice, reviews of the latest gear and more.
Coach is a health and fitness title. This byline is used for posting sponsored content, book extracts and the like. It is also used as a placeholder for articles published a long time ago when the original author is unclear. You can find out more about this publication and find the contact details of the editorial team on the About Us page.