Pat Moore Interview
Chatting with US snowboarding star, Pat Moore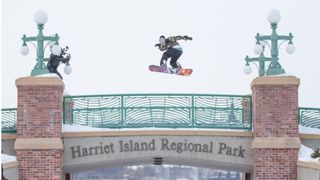 (Image credit: unknown)
One of the most versatile and well-rounded snowboarders around, Pat Moore has several competitive accolades to his name, including a gold in this year's X Games Real Snow Backcountry contest. He is perhaps more widely known for his roles in a number of high profile snowboarding films including That's It and The Art of Flight.
His most recent project, Mr Plant, follows Pat over the course of a season. As he travels the globe meeting with other snowboarding greats, the film sees him encountering all kinds of snowboarding along the way: from wacky street stunts to the most extreme of big mountain, backcountry slopes.
Pat took the time from his Mr Plant promotional tour to speak with us about the film, and to share some thoughts on the sport that has shaped his life ever since he was a young boy receiving his first board as a Christmas present.
Congratulations on your new film Mr Plant. Can you tell us what part of the movie you are the most proud of?
Well the final day of shooting we were at Jackson Hole [Wyoming] and we got to film this huge jump. That was a magical day and the stars just aligned on that one. But really, I think what I'm most proud of is just the hugely positive responses we've been getting from people.
What kind of warm-up do you do before a day on the mountain?
Most days I'll do a little stretch in the morning, but really my warm-ups are just done on the hill. I like to at least get one or two easy runs in first, to get a feel for the board under my feet. I just like to ride to get warmed up.
What do you think about so few countries wanting to host upcoming winter Olympics? Is it a problem for snowboarding?
You know, hosting an Olympics is such a huge endeavour for a country, especially with the economy how it is. So you can't really blame people for not wanting to see their country's money being spent on these kinds of projects. I don't know that it necessarily hurts snowboarding. Although the Olympics have definitely given a whole new platform for snowboarders to get out there and show what we do.
Do you think there are less people snowboarding today than there were five years ago?
I keep hearing maybe that it's plateaued, or even that it's shrinking. I don't know. But it has definitely grown in terms of its acceptability. More people know about it and understand what it is now.
How much does the environment influence backcountry riding?
You know, more and more people are getting into the backcountry these days. Whether that's with a splitboard, snowmobile, or just hiking around. So with more people up there, the risk is always that much more. The backcountry is a wild beast. So mountain safety and avalanche training plays a huge part in what we do. Because when you're up there these things come down to life and death really.
What do you do during the off-season to keep your body ticking over?

I just skateboard all summer! That's what I love to do. I go on skate trips with old friends, and we go camping and try to find new skate parks. That's like my other passion in life, definitely.
Finally, how's the Mr Plant tour going? Are you in the UK for long?
We've been here for a week and it's been great! Next we head over to Stuttgart, followed by a twelve-stop tour of the US, before finally heading out to Japan, China and Korea.
Pretty busy then!
Oh yeah! And then the new season starts and we're straight back into that!
Sign up for workout ideas, training advice, reviews of the latest gear and more.