5 Halloween Costumes for the Fitter Gent
Our pick of the finest Halloween attire for the more muscular man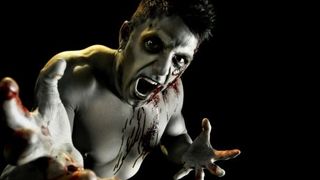 (Image credit: Unknown)
It's that time of year again. Board-shorts weather is over, and with the departure of the sun it's time to ease up on the carb-counting and start bulking for the winter months.
Or is it? In fact, no it isn't. Because there's one last avenue for the six-pack-enabled gent to show off before it's time to break out the festive jumpers and eggnog, and that time is Halloween. Here, we've selected the finest costume choices for the fitter chap – and, for those already thinking about next year, the workout plans that'll get you there. Just take it easy on the toffee apples, OK?
The functional: Spartan
Simple, elegant, classic – and all you really need is a red sheet and some sandals. This is really a look that lends itself to the chiselled leanness of the chap who prefers functional training. If your idea of fun is a pull-up pyramid and a kettlebell breathing ladder, then breakfast hearty – tonight, you dine on Haribo.
Get the look: The 300 workout alone won't cut it – you'll want a programme that combines high-intensity interval work with heavy lifting and a diet to match. Read our interview with Mark Twight, lead trainer on both 300 films, to get the idea.
The massive: Bane
Were you born into darkness? Moulded by it? No? Not to worry – all you really need to look like Batman's arch-nemesis is a mask, a vest, a fleece-lined jacket (optional) and an accent that nobody can quite place. Remember, now's not the time for fear… oh, wait, no, it is.
Get the look: To get in supervillain shape, Tom Hardy trained with ex-marine Patrick 'P-Nut' Monroe, who prescribes 'muscle signalling' – basically, doing multiple sets of press-ups throughout the day, focusing on perfect form, to let your arms know that they need to grow. Try it with chin-ups and dips, too.
The ladykiller: Thor
If your Tinder profile includes the words 'blonde' and 'forearms', this is your selection: just get yourself a plastic hammer, project your voice a bit, and you're away. Note: do not do that bit where you smash your empty glass on the floor when you want another drink more than once. Twice, tops.
Get the look: Trainer Michael Knight got Chris Hemsworth into godlike shape with a steady diet of heavy lifting, kettlebell moves, and industrial-volume chicken consumption. See the whole thing here.
The hairy: David Hasselhoff in Baywatch
Hirsutes you, sir? If you're not the manscaping sort, embrace it and go retro with an outfit that requires little more than a pair of red shorts and an overpowering sense of self-belief. Bonus: in years to come, you might be able to parlay your subsequent popularity into a successful singing career. In Germany.
Get the look: Forget the long, slow distance swims – the career of a (fictional) lifeguard is defined by periods of rest interspersed with quick sprints. To build boulder shoulders and a core that looks good under all that hair, try this sprint-swim workout from Alastair Brownlee.
The gigantic: The Hulk
The ultimate mesomorph. If chest and arms day happens three times a week for you, now is your time – just grab a shedload of green body paint, artfully rip a pair of shorts, and have at it. Note: this may get cold on the way home.
Get the look: Unless you've got access to a CGI suite, forget the full Ruffalo – you'll need to think more Ferrigno-era. For the biggest bang-for-your-buck V-shape available, use the push press. It allows you to handle more weight than the strict shoulder press, while building up your shoulders, chest and even your core. Don't forget to yell 'Arnold' on every rep – it'll help you lift more (studies pending).
Sign up for workout ideas, training advice, reviews of the latest gear and more.
From 2008 to 2018, Joel worked for Men's Fitness, which predated, and then shared a website with, Coach. Though he spent years running the hills of Bath, he's since ditched his trainers for a succession of Converse high-tops, since they're better suited to his love of pulling vans, lifting cars, and hefting logs in a succession of strongman competitions.