How to train harder: 4 steps
Once you know the principles, you can take charge of your training and build the foundations for greatness. Our experts explain how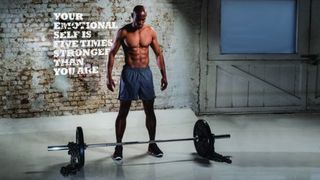 (Image credit: Unknown)
Step 1: Retrain your brain
The key to lasting improvements? Taking charge of your brain. Dr Steve Peters, consultant psychiatrist to Team GB cycling and the England football team, describes the conflict between your emotionally driven, primitive part of your brain (the limbic system) and the more rational pre-frontal cortex as the struggle between human and chimp. If you're stymied by inner turmoil, paranoia or worst-case scenario thinking, that's the chimp taking over.
'The key question is, do I want these thoughts, feelings or behaviours I'm experiencing?' asks Peters in his book The Chimp Paradox. 'If the answer is "No", then the chimp is in charge.' Here's how to put him back in his cage.
Step 2: Build your foundation
Whatever your aim, putting the right foundation in place will crumble-proof your other plans. 'Strength training is the key to everything,' says coach and former world-class hurdler Ruben Tabares, whose client list includes David Haye and Tinie Tempah. 'It gives you results that last. If you do high-intensity training continuously you'll get injured.'
Tabares's prescription? Start slow. 'If you've never trained before, start by doing high-rep bodyweight moves and work with Thera-Bands to strengthen your tendons and ligaments,' says Tabares. 'Next, walk more. After that, add strength training – low reps, high weight – and some jogging. Finally, you can move on to some high-intensity work. But you don't need much – when I was competing, I'd do seven months of off-season lifting and then four to six weeks of high-intensity work.' You'll want to work your core to build a foundation for everything else and that's what the moves on the right do.
Step 3: Learn to learn
Teach a man to fish… and he'll be able to fish. Teach yourself the principles of 'skill hacking' – the new hot trend among self-improvers, in which lifetime-to-achieve skills can be mastered in record time – and you'll be able to pick up not just fishing, but any skill you like.
'When it comes to learning, there is always a way to improve,' says skill-hacking field-leader Dan McLaughlin, a photographer with no competitive athletic experience who's currently halfway through an attempt to log 10,000 hours of dedicated golfing practice en route to the PGA Tour. 'Often it's not the first approach you take – rather, it's a period of exploration that leads to a breakthrough. The best way to have these breakthroughs is by not being afraid to fail and staying creative in your approach.'
The good news? You don't need to devote such a gigantic chunk of your life to the area you want to improve: you just need to keep trying different things to acquire new skills – whatever they are.
Step 4: Fix any diet
Let's serve up some truth: no diet is a substitute for simple, sustainable, clean eating. 'It's easy to simplify healthy eating into a five-second pitch, but slogans don't get the job done,' says Precision Nutrition's sports nutritionist Brian St Pierre. 'You need a framework to learn how to consistently eat well, and get the results you want. That way, if you follow a Paleo diet, you can learn to eat Paleo better. If you're a vegan, you can learn to do that better too.'
Step one is to identify nutritional deficiencies. 'Controlled research has consistently shown that most people are lacking in at least one critical nutrient, and often over a dozen,' says St Pierre. 'The most common dietary deficiencies we see in our coaching are water, protein, vitamin D, zinc and essential fatty acids.'
Step two is to manage your portion control (see box, right). Step three? 'Assess and adjust,' says St Pierre. 'When preparing any meal, you should adjust portion sizes up or down, depending on your body, goals and results. You can't know exactly how your body will respond in advance, so stay flexible. Continue to adjust your portions based on your hunger, fullness, overall activity level and progress towards your goals.'
Sign up for workout ideas, training advice, reviews of the latest gear and more.
Coach is a health and fitness title. This byline is used for posting sponsored content, book extracts and the like. It is also used as a placeholder for articles published a long time ago when the original author is unclear. You can find out more about this publication and find the contact details of the editorial team on the About Us page.