Dan Lacey interview
MF caught up with pro BMXer Dan Lacey ahead of the release of the feature length DVD 'Above Below'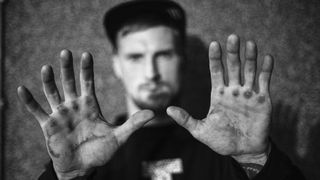 (Image credit: unknown)
How old were you when you started BMXing and how has the scene changed since then?
I was about 12 years old and it was just one of those things I fell into. I grew up in quite a prolific area for the BMX scene. There were a lot of contests, like The Backyard Jam, taking place around the early and late 90's. So being able to grow up in that environment inspired me to turn pro.
Do you think it's become a bit more corporate in recent years or has it managed to retain its relatively underground roots?
I think it's going back to its roots even more. A lot of the bigger companies, Monster especially, have really managed to grasp what BMX actually is, and that became apparent to me when the idea of this project (Above Below) came about. With contests, they become quite a spectacular show for the public but with this video for example, it gets to the core of BMXing again. It's really reassuring to see bigger companies see that side of what we do.
You competed in the X Games again this summer. How do you prepare for them?
It's really weird. It's definitely more of a mental thing than anything else because you're put under a lot of pressure. You're given a certain amount of time, a certain area to ride, whereas with street riding and filming ride parts you're able to explore and use your creativity. I won't lie, even til this day, I'm shaking every time I compete; it's something you just never get used to.
Is there any specific training that you do to prepare?
I don't really do much preparation as far as contests go. I just go, enjoy the practice and see all my friends. Then I get to the point where I'm like, 'Right, it's 10 minutes before you go in' and my whole mood changes from being relaxed to absolutely petrified.
Above Below shows you guys taking some hard knocks. What do you do to make yourself injury-proof?
I tend to do a lot of stretching. I grew up in a martial arts background since the age of 5 and did karate until I was about 16. I also got into kickboxing and Thai boxing too, so when it comes to preventing injuries I know stretching is important. You need to do it right so that if you do take a bad slam, you can come back stronger and learn from it because that way it becomes more rewarding.
What has been your worst injury to date?
The one that probably scared me the most was while I was filming for this video. It happened on our first trip to Cape Town, South Africa and I ruptured one of my lungs and bruised my ribs. I managed to land on my arm, which cushioned my ribs from breaking, but my lung swelled up and I couldn't breathe. It felt like a ball of fire exploded inside my left side and the next thing I remember I was being driven to the hospital. I couldn't remember anything after that day.
You must get a huge adrenaline rush at the X Games. Do you find you go bigger with your tricks?
You get caught in the moment because you set yourself a bar, especially when it comes to contests. Sometimes the level of riding is absolutely mind blowing, so you find you have to think outside the box because your usual bag of tricks isn't going to cut it. But I don't feel pressured to do that. The best thing is to do what you're comfortable with and do it your way. If you go with a positive mindset you'll get positive results.
What trick or line in Above Below took you the longest to nail and why?
It was on a last minute trip to Berlin and I flew over there to perform one last trick, a trick I had wanted to film for a while. We got caught up with security one day and he asked us to leave the premises. We came back the day after and security told us to leave again so we waited round the corner instead. I was just thinking to myself 'I can't mentally take this, it's driving me insane.' But luckily we saw an opening at the back of the building and we got the film done. There was so much up against us and we triumphed over it. It took 6 and a half hours to film and in the video it's only a 4 second clip, but at least it worked out in the end.
If you weren't a professional BMX rider what would you be doing now?
That's a crazy one, I've never actually thought about it. I've always had a love of martial arts; karate and kickboxing, and my granddad was really supportive of me doing that throughout my entire childhood. But with Karate you have to follow this and that, but with BMX I'm able to go in my own direction. So I guess if it'd be kickboxing. With BMXing I feel quite at home and the creativity I put into it is so much more rewarding.
Above Below is released on December 14th. Order it here.
Sign up for workout ideas, training advice, reviews of the latest gear and more.
Coach is a health and fitness title. This byline is used for posting sponsored content, book extracts and the like. It is also used as a placeholder for articles published a long time ago when the original author is unclear. You can find out more about this publication and find the contact details of the editorial team on the About Us page.