Gym Of The Week: The Athlete Centre
This week's Gym of the Week is The Athlete Centre in Oxford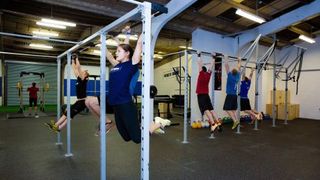 (Image credit: unknown)
Type of facility: Strength and conditioning gym
Membership costs: £100 for the first month, which includes screenings, and £59-£89 a month thereafter depending on class usage
Opening hours: Mon-Thu 06.00-21.00 / Fri 06.00-20.00 / Sat 08.00-16.00 / Sun 10.00-14.00
Address: Osney Mead House, Osney Mead Industrial Estate, Oxford, OX2 0EA
Phone: 01865 249999
Website: theathletecentre.com
Twitter: @AthleteCentre
On the southwest outskirts of Oxford's city centre you'll find this large, top-quality strength and conditioning facility with a focus on CrossFit. We spoke to S&C coach and founder James Shields to find out more.
What is The Athlete Centre?
It's is a results-driven facility that provides its members with the support they need to achieve their goals, from training and programming to treatments and nutrition. We aim to give everyone the experience of training like a professional athlete.
What made you think The Athlete Centre could work in Oxford?
For such a sporty city, Oxford had very little in the way of quality strength and conditioning facilities. Sure, it has leisure centres and PT studios, but nowhere people could really become part of a community and get genuine results month after month.
How did you go about recruiting coaches?
We have applications every week from people wanting to coach at The Athlete Centre, and even more offering to shadow for free for experience. But all potential coaches must pass our assessment procedure to work here – and very few do. If they are unsuccessful, we tell them what they need to work on and invite them back in six months to retest.
How happy are you with where it's got to since it's been open?
Things have gone better than we thought possible. People have really bought into our concepts and core beliefs. One member even offered to have his car branded with The Athlete Centre's logo!
What do you offer members that bog-standard gyms don't?
Results, results, results. You can have the best gym in the world but if members don't see results you won't hang on to them. Your members are your best advertisement.
What are the most popular classes or training styles available at The Athlete Centre?
We offer strength training, Olympic lifting, CrossFit and mobility classes. We start CrossFit training with a strength programme to ensure people are fit enough to do the harder CrossFit moves safely.
What's the most impressive thing you've ever seen anyone do at The Athlete Centre?
Following our last strength cycle we saw members' one-rep maxes increase by 15% on average. Seeing so many people ring the PB bell in the gym was very impressive and reinforces our belief in what we are doing.
What single thing are you most proud of about the gym?
Our members, plain and simple. They can't do enough to help out.
What's the first thing you get beginners to do when they join?
All new members must follow the same process. First, a one-to-one with our in-house osteopath to ensure they are fit to train. They will then see a strength and conditioning coach to get programming advice before finally seeing our nutritionist to get their diet in line.
You have a fitness-specific membership software system called Wodify. How does that work?
Wodify allows members to track their progress, record PBs and workouts. If they want they can see how they stack up against the rest of the members. It's an amazing system, so user-friendly, and gives members a much better platform to work from. Only regret is not getting it in sooner.
What are your future plans for The Athlete Centre?
Expansion plans are in place – so keep your eyes open because there might be an Athlete Centre in your town very soon.
Sign up for workout ideas, training advice, reviews of the latest gear and more.
Nick Hutchings worked for Men's Fitness UK, which predated, and then shared a website with, Coach. Nick worked as digital editor from 2008 to 2011, head of content until 2014, and finally editor-in-chief until 2015.