The festival gear survival guide
The perfect gear for festival season that will see you not just survive, but thrive, while those around you struggle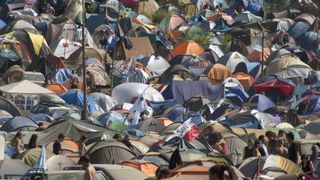 (Image credit: Unknown)
Like extreme sports, festivals can take you to different countries and climates – or even just spots of the English countryside that inexplicably seem to have their own unruly climactic microcosms to deal with. You might need to be prepared for beaming sunshine one day and downpours the next and whatever happens with the weather, being prepared will help make those inevitable hangovers as smooth as possible.
---
Ditch the wipes and kill the festival stench with this pocket shower. The black fabric attracts sunlight warming up the 10 litres of water it holds, while the adjustable nozzle gives a nice even water spray. Just attach it to a tree, strip off, give the campsite a show, and thank your lucky stars that public nudity at festivals doesn't end up in being on some kind of register.
---
£25 regatta.com
Strong and durable, this two-person blow-up mattress should definitely help entice potential conquests back to your tent. Just don't blame us if your camp neighbours complain about the creaking – it has a tendency to amplify every shuffle, roll or whatever other movements you do in the wee hours of the morning. A small price to pay for not eliminating the possibility of passing out with a stone or stick inconveniently placed under your spine. Get yourself an electric pump unless you want a laughing gas style high for FREE! (Disclaimer: we do not in any way endorse the use of laughing gas).
---
£54 sony.co.uk
It's totally not sad in the slightest if you just jam out to your own music at the campsite with a Bluetooth speaker like this one from Sony. Its 10W sound can't compete with the speakers on the main stage but is plenty loud enough to make everyone in the immediate area hate you for blasting out German techno at 6am because 'it's a festival!' – also, it only weighs 215g so won't have to be jettisoned in favour of beer when you do your pre-festival booze run.
---
EnerPlex 10000mAh Jumpr Slate
£80 amazon.co.uk
This ultra-thin portable charger has enough power for you and your mates to keep your phones fully charged all weekend so you can laugh at all the poor lost-its having to queue for hours for the pleasure of getting a half hour charge that will be wasted getting through to the voicemail of fellow festival-goers who can't be arsed with the wait.
---
From £70 regatta.com
No matter what the 'man-size' of a tent is, don't believe it. Always subtract one, or two if you're feeling in the mood for enough space to almost resemble a real bed. Having said that, this one from Regatta does genuinely sleep three people comfortably – we've tried, and succeeded. But having said that, we'd just have the whole thing ourselves if we were you. Especially if you do plan on having late night visitors. Unless peeping Toms don't bother you, that is.
Sign up for workout ideas, training advice, reviews of the latest gear and more.
Khaliha Hawkins worked as an intern for Men's Fitness UK in the summer of 2015, while studying for a bachelor's degree in journalism from Klein College of Media and Communication at Temple University. Khaliha went on to work at Glamour magazine in New York.