How to Beat Stress (by Six Guys that Eat it for Breakfast)
These men know a thing or two about feeling the heat...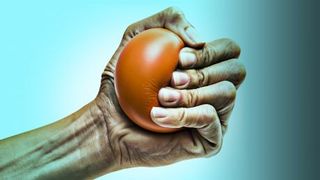 (Image credit: Unknown)
The word "stress" comes from the Latin strictus, meaning "drawn tight", a sensation tens of thousands of workers across the capital are battling at this very moment. House prices are insane, the journey to work is a bloody nightmare, mouths need feeding and relationships are exerting their pressure. Visit the "facilities" before 11am on any given day and you'll likely hear sobbing coming from the cubicles. Sometimes even from a urinal. According to the 2014 Labour Force Survey, painstakingly assembled by the nation's elite counting task force, the Office for National Statistics [ONS], 39 per cent of work-related illnesses over the course of a year in the UK were stress-related. That same year, 11.3 million working days were lost on account of it.
The internet is bursting with advice from "wellness professionals" about how to fight back, so instead we gathered together six men from a spectrum of high-pressure jobs and working backgrounds to discuss how stress makes its presence felt to them, and how they respond…
The Stress Experts
Richard Arnold, 45, TV Presenter
Entertainment editor on Good Morning Britain
Leo Field, 38, Teacher
Ten years teaching at a large London comprehensive
Lyn Evans, 29, Paramedic
Twelve years working with the ambulance service
Tim Shishodia, 43, Comedian
Veteran stand-up and winner of Old Comedian Of The Year
Paul Nicholson, 36, Darts Player
Pro since 2008
Steven Griffiths, 30, Former Soldier
Toured Iraq in 2006 and 2008
COACH: You all do stressful jobs, but exactly how stressful are they?
PN: Stressful enough for me to have a live meltdown on stage. There was an infamous incident in 2013 where I broke down in tears during a match. The stress of the situation, the arena we were in [Blackpool Winter Gardens] – I just didn't have any good memories there. There was a build-up of things in my head that I didn't get to grips with until two or three weeks later when I was putting the pieces together. Breaking down on live TV was embarrassing but I'm not ashamed
of it – I'm only human and it was going to happen at some point.
SG: When I was in Iraq in 2006, there were about 250 separate attacks in a couple of months, but people didn't really talk about how stressful it was. In the Army people tend to tell bad jokes instead.
LE: Instead of going to see a GP people will often dial 999 these days, so you need your wits about you and be able to think on your feet.
Does work stress ever leave you completely?
RA: Of course not, no, you always get a cheeky butterfly in your belly. With live TV, like any job really, it's like earning air miles – you just grow to handle it better and you get more confident every time you do it. Confidence comes with experience.
What about the stress of war?
SG: It definitely stays with you after serving somewhere like Iraq. If you drive over a pothole and hear a bang you will instinctively want to drop to the floor, it's ingrained. I know a guy who went to the floor when the alarm went off in Tesco – it takes a couple of seconds to remember where you are, then you realise and think "What the hell am I doing?" It can be quite embarrassing.
So how do you cope with stress?
LE: Back in the day there was time to go back to the station and debrief with your colleagues and reflect and try to have a laugh and a joke, but
the department is so busy now that you don't get that downtime. You do tend to take a lot more home with you. It's tough.
SG: There were times in Iraq when the explosions felt like they were really close and getting closer and I'd start to panic, but I just had to tell myself that if it hits me, it's tough sh*t, there's nothing you can do. I'd often go to sleep, I was always in the mindset that if I was going to die I'd much rather not be awake for it.
LF: Generally the most stressful thing for me is when the kids hamstring themselves with poor behaviour and you wish you could help them. You worry about them when they're at home and how their parents deal with them, because you can't control that. There was also once a knife fight outside our school. That was stressful.
Has the stress of performing on stage ever become too overwhelming?
RA: I forgot my steps in front of 12 million people doing Big Spender on Strictly and haven't been able to listen to it since. I remember staring into the middle distance with my partner, Erin, thinking, "Right, this
is actually happening." On live TV
I can style it out if I've lost my trail of thought, but this was the worst. Time stood still. I just had to talk myself down and somehow get on with it.
PN: I've had outbursts with members of the audience who have decided to get involved and the odd fracas with another player, but these have generally made my games more entertaining for the viewers. Early in my career I didn't handle the stress very well, nowadays I'm a little more clued up, thankfully.
TS: I don't tend to get too overwhelmed once I'm on stage, but I did have a gig recently where there was a fire alarm that wouldn't switch off for ages, and by the time I got on no one had any appetite for the evening any more – it just wasn't happening. After that you do suffer, and not a day goes past where I don't think of a bad gig and I verbally groan.
Have you found a way of addressing stress away from the daily grind?
LF: I get home, have a drink and use my wife as a sounding board. Meditation's also excellent but it's so hard to find the time.
PN: I did some work with Tony Wrighton, who's a life coach as well as working for Sky Sports News.
He taught me some techniques where before each leg of darts I'd be able to bring myself back to a focus point – it all involves closing my eyes, having a breath and clenching my fist for about two seconds and believing I'm in exactly the same place I was two minutes ago. It's a really good technique.
With such high-stress jobs, do you now find perfectly normal day-to-day things stressful?
TS: Kind of. Since becoming a stand-up I can be really weird about social situations – I probably analyse things too much.
SG: First dates are pretty harrowing.
LF: I find it much harder to focus in one-to-one conversations than I did ten years ago, mainly because I've so little time to reflect on anything I've been doing.
What's the most essential lesson you've learned about coping with stress?
LE: Make time to reflect and to talk with your colleagues. Talking is the most important thing.
LF: Get away from gadgets and get out of your house. Be outside.
RA: I've a little office in the back of my garden where I take myself off to look at memorabilia from '80s TV shows that I've collected over the years. I've basically become the man who lives in his shed. Oh, and go to the gym.
SG: I second that, keeping in shape – working out is the key.
TS: I just make sure my career is all done on my own terms, I gig when invited rather than blindly chasing a load of opportunities. That minimises the stress for me.
PN: There's always going to be something that will challenge you, so you have to keep an open mind, you need a good support network, and, above all, you need to breathe.
See more like this in Coach magazine. To find out where you can grab your free copy, click here.
Sign up for workout ideas, training advice, reviews of the latest gear and more.
Coach is a health and fitness title. This byline is used for posting sponsored content, book extracts and the like. It is also used as a placeholder for articles published a long time ago when the original author is unclear. You can find out more about this publication and find the contact details of the editorial team on the About Us page.