Vegetarian fat-loss plan
You don't need meat to fuel your workouts - follow this vegetarian meal plan and shed fat in just four weeks, while training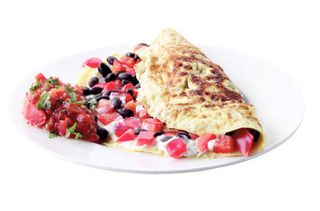 (Image credit: Unknown)
To shift fat, you have to burn more calories than you eat. Fat is the most calorific dietary element and most meat is high in fat, so this meal plan, devised by dietician Nik Wendon-Daniels, encourages you to eat like a vegetarian – but it still contains everything you need to fuel your exercise routine. This includes protein and calcium, which can aid weight loss by breaking down body fat. It also keeps your daily calorie total under 2,000, which should make weight loss easy.
Monday
Breakfast: 3 Weetabix with 120ml skimmed milk and 1tbsp dried fruit.
Snack: 2 plums.
Lunch: 1 toasted wholemeal bagel with low-fat soft cheese. Large salad with vinegar dressing. 200ml low-fat rice pudding.
Snack: 2 figs.
Dinner: 300g kidney bean casserole, served with 180g cooked brown rice. 100g quark cheese with 1tbsp honey and fresh blackberries.
Daily total: 1,732 calories, 315g carbs, 73g protein, 30g fat
Tuesday
Breakfast: 2 slices of rye bread with low-fat spread and peanut butter.
Snack: 1 banana.
Lunch: 300g vegetable moussaka.
Snack: 150g low-fat yoghurt with 150g seasonal berries and 1tbsp porridge oats.
Dinner: Low-fat macaroni cheese: cook 45g dry macaroni in 200ml skimmed milk. Drain and mix with 1tsp rapeseed oil, 30g low-fat cheese and parmesan to taste. Serve with steamed veg.
Daily total: 1,746 calories, 196g carbs, 73g protein, 81g fat
Wednesday
Breakfast: 6tbsp porridge oats in low-fat yoghurt with 1tbsp seeds and 1tbsp dried fruit.
Snack: 150-calorie cereal bar.
Lunch: Mix 100g quark cheese, 6 chopped cherry tomatoes and the juice of 1 lemon. Spread on 110g wholemeal baguette with herbs and black pepper.
Snack: 50g nuts and raisins.
Dinner: 140g cooked couscous in vegetable stock with 50g dried apricots. Serve with 80g feta cheese, chopped tomato, celery and grilled aubergine in 1tsp sesame seed oil.
Daily total: 1,973 calories, 245g carbs, 74g protein, 84g fat
Thursday
Breakfast: 2 baked potato waffles with 1 small can of reduced sugar and salt baked beans. 50g fresh orange juice.
Snack: 250ml shop-bought fruit smoothie.
Lunch: 300ml lentil soup. 1 wholemeal roll with low-fat spread and low-fat cream cheese.
Snack: 2 fig rolls. 1 cup of black tea.
Dinner: 2 Quorn sausages grilled and served with 'champ' (160g boiled new potatoes mashed with melted low-fat spread and fried onion), steamed vegetables and vegetable gravy.
Daily total: 1,650 calories, 214g carbs, 72g protein, 64g fat
Friday
Breakfast: 37g oat bran flakes with 120ml skimmed milk.
Snack: 2 rice cakes with peanut butter. 200ml skimmed milk.
Lunch: 180g bean salad, raw tomato and 200g vine leaves stuffed with rice.
Snack: 1 large pear.
Dinner: Vegetable tikka, 160g rice, 4tbsp chickpea dhal and raita (fat-free yoghurt with cucumber chunks).
Daily total: 2,000 calories, 235g carbs, 64g protein, 97g fat
Saturday
Breakfast: Breakfast burrito (pictured above): whisk 1 egg, 50ml skimmed milk and a pinch of ground cumin, then pourinto a non-stick pan and cook. When the egg mixture has almost cookedthrough, add ½ a chopped red pepper, ½ a can of black beans and 50gquark. Fold the omelette over and leave to cook through. Add choppedcoriander and salsa and serve with 1 slice of wheatgerm bread.
Snack: 1 apple.
Lunch: Greek salad in 1 wholemeal pitta with low-fat hummus.
Snack: 35g plain popcorn.
Dinner: 120g Quorn and 200g mixed veg stir-fried in 10g rapeseed oil, with sweet chilli sauce to taste. 120g boiled egg noodles.
Daily total: 2,000 calories, 198g carbs, 102g protein, 94g fat
Sunday
Breakfast: 2 slices of wholemeal toast with almond butter.
Snack: 200g fruit salad.
Lunch: 100g falafel in 1 wholemeal tortilla wrap with reduced-calorie mayonnaise and chopped tomato.
Snack: 2 chocolate-covered marshmallows.
Dinner: 300g vegetable risotto,mixed with 100g cooked soya beans. 150g low-fat yoghurt with 200g fresh fruit salad.
Daily total: 1,784 calories, 235g carbs, 70g protein, 74g fat
Sign up for workout ideas, training advice, reviews of the latest gear and more.
Coach is a health and fitness title. This byline is used for posting sponsored content, book extracts and the like. It is also used as a placeholder for articles published a long time ago when the original author is unclear. You can find out more about this publication and find the contact details of the editorial team on the About Us page.