Healthy pork recipes on a budget
Cheap and healthy pork recipes made using more flexible cuts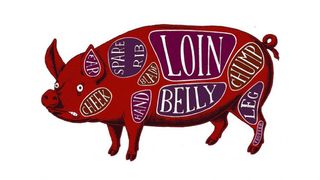 (Image credit: unknown)
Popular pork cuts such as loin and belly are already relatively inexpensive, but head to your local butchers and you'll find some flexible – and tastier – alternatives.
Cheek
'Cheeks are widely used in the restaurant industry and far less at home, but don't be put off,' says Bennett. 'They're much cheaper than more common cuts and, when cheeks are braised correctly, the meat melts in the mouth and tastes fantastic. You can also make several meals in one go to store in the fridge for later in the week, so they are really practical too.'
Slow-braised pig cheeks
Season 12 cleaned pig cheeks with salt and place in a deep casserole dish with a lid.
Roughly chop five plum tomatoes and place in the casserole dish with 150g of peeled baby onions, 300ml chicken stock, 300ml meat stock and one 500ml bottle of country cider.
Chop ¼ bunch of fresh tarragon roughly and throw into the dish along with 100g of frozen peas.
Put the lid on the caserole dish and cook in an oven at 130˚C for six hours.
Stir well and serve.
Hand
'This joint comes from the front leg and shoulder of the pig,' says Philpot. 'Like any part of an animal that has done some work, it's tasty and leaner than the "prime" fillets but a little tougher, so it works best if it's braised.'
Braised pork and lentils
Put the pork in a large pan, cover with water and add some thyme, a few peppercorns, a bay leaf and couple of peeled onions and carrots.
Bring to the boil, then turn down to simmer for a few hours. You can tell when it's cooked by carefully tugging at the bone – when it comes out cleanly, it's ready.
Once the meat is cooked, leave it to cool in the liquid. Then remove the meat and pick off the flesh, discarding the skin, bones and sinew. Strain and keep the liquid.
Take half a litre of the cooking liquid and add 100g puy lentils. Bring to a simmer and keep simmering until cooked. Strain off any excess stock and mix your pulled pork.
Add watercress and cherry tomatoes and season with salt and pepper.
Blade
'The pork shoulder, or blade, is very versatile – it can be fried, or slow-roasted for as long as six hours,' says Allan Pickett, head chef at Plateau in London's Canary Wharf (plateau-restaurant.co.uk). 'It has good iron content and is a cheaper cut than a loin, but it needs more work to get the best out of it.'
Slow-roasted pork shoulder with apples
Put two carrots (peeled and cut in half lengthways), two diced onions and one celery stick (cut into 5cm lengths) in a roasting pan.
For a 1.2kg joint, make six incisions. Cut one Granny Smith apple into six pieces and insert into the slits you've made. Place this on top of the vegetables and add a litre of water.
Cook at 130°C for four hours. Check regularly and add more water if needed. The pork should be tender and fall off the bone once cooked.
Chump
'Chump is the rump of the pig and can be roasted on or off the bone,' says Boland. 'This cut is slightly more moist than a pork leg and it's also high in vitamin B6 (which is great for your metabolism). It's cheaper and lower in fat than other cuts too.'
Grilled chump with quince purée and purple sprouting broccoli
Remove the seeds from two quinces. Add to a pan with 100g sugar and 200ml apple juice. Heat on a medium heat until soft, then blend to create a smooth purée.
When you add the quince to the blender, start to grill the pork chump – this will take around eight minutes on each side for a medium-sized cut.
Boil the purple sprouting broccoli in water for five minutes. Serve next to the grilled chump with 2tsp of quince purée on the side or on top of the meat.
Sign up for workout ideas, training advice, reviews of the latest gear and more.
Coach is a health and fitness title. This byline is used for posting sponsored content, book extracts and the like. It is also used as a placeholder for articles published a long time ago when the original author is unclear. You can find out more about this publication and find the contact details of the editorial team on the About Us page.