Balanced protein and carb meal plan
These quesadillas offer a tasty way of packing on muscle and recovering from workouts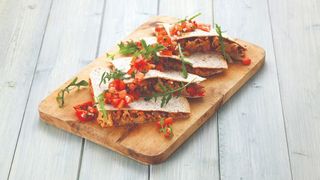 (Image credit: Unknown)
Protein and carbs are crucial to growing muscle. But if you want to maximise your gains, you need to eat the right amounts at the right times. This meal plan staggers hits of both through the day to help fuel your gym efforts and build lean muscle tissue, including a recipe provided by Michelin-starred chef and duathlon champion Alan Murchison.
'Pulled pork quesadillas offer a great combination of protein and healthy carbs,' says Murchison. 'Enjoy one after a tough training session to aid recovery and enhance muscle growth.'
Pork is rich in magnesium, which helps to keep muscles strong.
Tomatoes contribute to amino acid metabolism, which helps build muscle.
Shallots contain quercetin, which soothes aching muscles after a tough workout.
Breakfast
Five-egg chicken and spinach omelette provides plenty of iron, which fuels exercise by supplying muscles with oxygen.
Lunch
Jacket sweet potato with tuna and kale contains phytochemicals that aid the production of testosterone to promote muscle growth.
Dinner
Pulled pork quesadillas (serves 4)
2-3 wholemeal tortilla wraps per person / 1 medium-sized pork shoulder / 3tbsp sea salt / 3tbsp muscovado sugar / 3tbsp smoked paprika / 1tbsp crushed black pepper / 100g cheddar or other cheese, grated
Garnish
1 onion, finely sliced / 1 small chilli, finely diced / 1 small bunch of coriander, chopped / 1tsp
smoked paprika
Tomato salsa
6 tomatoes, chopped / 1 shallot, finely chopped / Dash of Tabasco sauce / Dash of Worcestershire sauce / Pinch of salt / Pinch of sugar
To make
Heat the oven to 220°C/gas mark 7.
Mix the salt, sugar, paprika and pepper and rub half into the pork. Place the pork in a roasting dish and cook it in the oven for 20 minutes.
Reduce the temperature to 125°C/gas mark 2 and cook for 5-6 hours, then 20 more minutes at 220°C. Allow it to rest for 60 minutes.
Pull the meat off the bone using two forks and mix with the remaining seasoning.
Mix the garnish ingredients. Add pulled pork, cheese and garnish to each wrap, roll up and place under a hot grill until warmed.
Mix the salsa ingredients and serve with the quesadillas alongside a green salad.
Snacks
Beef jerky and brazil nuts offer muscle-building creatine and BCAAs to preserve muscle mass and help you work harder in training.
Sign up for workout ideas, training advice, reviews of the latest gear and more.
Coach is a health and fitness title. This byline is used for posting sponsored content, book extracts and the like. It is also used as a placeholder for articles published a long time ago when the original author is unclear. You can find out more about this publication and find the contact details of the editorial team on the About Us page.