6 essential foods you're probably not eating
A selection of vitamin-packed foods that you're probably leaving out of your diet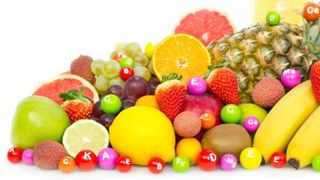 (Image credit: unknown)
Yes, you might be popping a load of supplements down your throat on a daily basis, but no amount of vitamin pills will give you all of the nutrients that you need to maintain a healthy body, while building muscle and burning fat. It might cost a bit more and require more effort but there are certain foods that will be extremely beneficial to have regularly in your diet, providing vitamins and minerals in abundance. You may already eat some of them, but we can guarantee that you haven't tried them all, so for the sake of variation and nutrition be sure to crowbar a few of these into your diet on a regular basis.
Marmite
Nutrients provided: Fibre, niacin. Thiamin, folic acid, riboflavin, vitamin B12
Why you should eat it: Love or hate it, this syrupy yeast based spread causes many a heated debate between its fans and its detractors. 100% vegetarian and made from a fungus that is used in the creation of beer it only contains 9 calories per 4 gram serving and contains a healthy dose of B vitamins that promote healthy kidney function and liver. You will also get around half of your GDA of folic acid and thiamin, nutrients that help to look after your nervous systems balance.
The best way to eat it: There's only one-way surely! Spread it on toast!
Red grapefruit
Nutrients provided: Vitamin B6, lycopene, vitamin C, folate, potassium, calcium, fibre.
Why you should eat it: The nutritional benefits of citrus fruits are wide-ranging, none more so than the less-fashionable grapefruit. A recent study in Israel found that feeding a group of patients the equivalent of one grapefruit everyday lowered their cholesterol. Grapefruits of the red variety were actually found to be even more effective than white grapefruits in lowering blood triglycerides, a cholesterol type that can cause heart disease. For those of you that find grapefruits a bit too bitter / sour, red grapefruits are pleasantly sweeter and more palate-friendly, so there's no excuses.
The best way to eat it: Cut it in half and eat with a spoon for a refreshing breakfast snack.
Arame
Nutrients provided: Magnesium, Iodine, Bioactive compounds, Vitamins A, C, E, and K, Calcium, Iron, Phosphorus and the Vitamin b group.
Why you should eat it: You know the black stuff that they wrap sushi in? It's called nori seaweed and Arame is its neglected younger brother. It's slightly milder in flavour than nori seaweed but it has many of the same health benefits, including preventing cancer, lowering blood pressure and improving the immune system.
The best way to eat it: You can find it in most large supermarkets stocking "world foods". It usually comes in dried sheets that are really easy to slice up and put into dishes like stir-frys or soups. They can also be ground into a powder and used as a form of seasoning on fish.
Olives
Nutrients provided: Copper, fibre, vitamin E and iron
Why you should eat them: People tend to not like olives until they get a bit older, and despite the bad rap that they get for being rather high in sodium, they are actually a really good source of vitamin E, which helps to promote fight inflammation and heart health. Olives are also great for those on a vegetarian diet as they are a good source of iron. There are also myriad varieties of the little Greek wonders, meaning you don't have to eat the same old olives all the time.
The best way to them: Their versatility is a strong factor. They are great just eaten from a bowl, or chopped up and put in a salad, in a pasta dish or on a pizza.
Oysters
Nutrients provided: Iron, Zinc, Copper, Manganese, Selenium, Vitamin D, and Vitamin B12
Why you should eat them: As well as being a famed aphrodisiac, oysters hold more zinc than most other food products. Zinc is a mineral that is crucial to healthy sperm production as well as helping to keep stress levels, energy, and the immune system in check. They're also known to promote healthy skin.
The best way to eat them: Preferably being fed by an attractive partner. Failing that, add a dash of Tabasco to raw oyster and suck them straight out of their shells. Lovely.
Purslane
Nutrients provided: Iron, Magnesium, Potassium, Manganese, Vitamin A, C, and B6, Omega-3 fats, Folate, Calcium
Why you should eat them: You haven't heard of purslane have you? Don't worry, you're not alone, most people will have seen it but won't have realised what it actually is. You know those annoying weeds that sprout up from the cracks in the pavement sometimes? Well they're not as annoying as you might think, you can actually eat them, and they're good for you. Purslane has the highest amount of omega-3 fats of any plant that you can eat. It also contains natural melatonin, an antioxidant that helps the body to fight off cancer.
The best way to eat it: Use it as an alternative to lettuce in a salad.

Sign up for workout ideas, training advice, reviews of the latest gear and more.
Coach is a health and fitness title. This byline is used for posting sponsored content, book extracts and the like. It is also used as a placeholder for articles published a long time ago when the original author is unclear. You can find out more about this publication and find the contact details of the editorial team on the About Us page.