How to make beetroot better
For endurance, reduced inflammation and better recovery, you can't beat a beet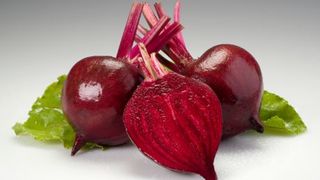 (Image credit: Unknown)
With its earthy flavour and, ah, unusual texture, beetroot isn't everyone's veg of choice. But if you're not harnessing the powers of the purple stuff after a tough workout, you're missing out on some potent anti-inflammatory, recovery-boosting benefits – in fact, half the Tour De France peloton swear by beetroot juice as endurance fuel.
The solution? Add beetroot to your post-workout salads. You'll mask the taste, ingest it easily, and won't need to munch on beets like they're big violet apples. The only thing we can't help you with is its effects on your post-binge bathroom visits. Purple pee's inevitable.
More muscle-building, fat-reducing nutrition ideas.
You'll love it like this
Beetroot and chilli salad - Ingredients (Serves 1)
1tsp coriander seeds / 1 dried red chilli, chopped / 1tbsp vegetable oil / 1 onion, diced / ½tsp turmeric / 2 tomatoes, sliced / 80g beetroot, cut into strips / 250g baby spinach / 30g peanuts,
roasted and crushed
Method
Lightly fry the coriander seeds and chilli in oil for a few minutes. Crush and return to pan with the onion for 5-6 minutes. Add the turmeric and tomatoes, stir, then add the beetroot and spinach – just as this wilts, remove from heat and top with peanuts.
Beetroot and feta salad - Ingredients (serves 1)
1 beetroot, peeled and cut into chunks / 50g baby carrots, with tops / ¼tsp cumin seeds / 1tbsp olive oil / 50g quinoa, cooked / 50g feta, cubed / ¼ bag baby salad leaves
Method
Preheat the oven to 200°C/Gas Mark 5. Toss the beetroot, carrots and cumin seeds in olive oil and roast for 30 minutes. Whisk together 50g Greek yogurt, 1tsp white wine vinegar, 10g runny honey, 1tsp wholegrain mustard, ¼tsp cumin seeds and ¼tsp ground cumin. Pour over the beetroot and carrots, add the quinoa, feta and leaves, and toss.
Goat's cheese and beetroot salad - Ingredients (serves 1)
A handful of spinach leaves / 3 beetroots / 30g goat's cheese / 1tbsp pine nuts / 1tbsp olive oil / ½tbsp balsamic vinegar
Method
Wash the spinach leaves and slice the beetroots. Mix together in a large bowl. Cut the goat's cheese into cubes, and add these and the pine nuts to the bowl. For the dressing, whisk together the olive oil and balsamic vinegar, pour this over the beetroot salad, and toss to serve.
Sign up for workout ideas, training advice, reviews of the latest gear and more.
Coach is a health and fitness title. This byline is used for posting sponsored content, book extracts and the like. It is also used as a placeholder for articles published a long time ago when the original author is unclear. You can find out more about this publication and find the contact details of the editorial team on the About Us page.