How to make carrots better
Not a fan of Bugs Bunny's favourite snack? Get the health benefits by sneaking it into your diet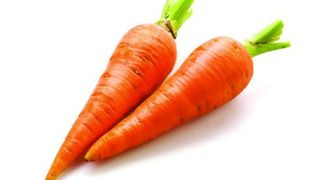 (Image credit: Unknown)
Carrots might not let you see in the dark – it's a myth dating from Second World War propaganda – but they do offer a potent cocktail of fitness-enhancing nutrients that make them a worthwhile addition to any healthy man's diet. The problem? The taste isn't to everyone's liking.
So to make sure you don't miss out, we present three recipes that smuggle carrots in alongside delicious ingredients that complement – or even mask – the taste. You won't even notice they're there.
More muscle-building, fat-reducing nutrition ideas.
You'll love them like this
Chicken and carrot stir-fry - Ingredients (serves 2)
1 carrot, cut into strips / 2 chicken breasts, sliced / 1tsp grated root ginger / 3tbsp soy sauce / 2tbsp olive oil / ½ a red pepper, chopped / 75g sugar snap peas, sliced / 4 spring onions, sliced / 50g bean sprouts / 100g cashews / 2 dried red chillies, finely chopped / ½tsp caster sugar / 1tbsp rice vinegar
To make
Marinate the chicken in the soy sauce and ginger for 1hr. Stir-fry the nuts in ½tbsp oil over a high heat till golden brown, then set aside. Stir-fry the chicken for 3min in 1tbsp oil over a high heat, then set aside. Stir-fry the carrots and peppers for 2min in the remaining oil. Add the sugar snap peas, onions and bean sprouts and fry for 1min. Add the chicken, nuts, chillies, sugar and vinegar, mix and cook for 2min. Serve with rice.
Tuna and carrot salad Ingredients (serves 1)
1 carrot, grated / 1 can of tuna / 2tbsp Greek yogurt / ½ a bag of Swiss chard / 1 stick of celery, sliced / ½ an onion, sliced
To make
Drain the tuna and mix it with the Greek yogurt in a bowl. Mix the Swiss chard, celery, carrots and onion in a separate bowl. Transfer the veg to a bowl, then pile the tuna on top and serve.
Prawn and carrot curry - Ingredients (serves 2)
2 carrots, chopped / 75g fresh prawns / 1tbsp olive oil / 1 onion, chopped / 1-2 green peppers, chopped / 2 tomatoes, chopped / 1 garlic clove, crushed / ½ a lemongrass stick / 1cm ginger, sliced / 2 green chillies, sliced / ½tsp turmeric / 3tbsp oyster sauce / ½tsp cayenne pepper / 1l vegetable stock / 100ml coconut milk / 250g brown rice
To make
Heat the oil and cook the onion and carrots gently for 5min. Add the tomatoes, ginger, garlic, cayenne pepper, chillies, oyster sauce, stock, turmeric and coconut milk and simmer for 12-15min. Cook the rice according to instructions, then drain and use the water to blanch the prawns with lemongrass for 4min. Add the prawns and peppers to the sauce and serve with the rice.
Sign up for workout ideas, training advice, reviews of the latest gear and more.
Coach is a health and fitness title. This byline is used for posting sponsored content, book extracts and the like. It is also used as a placeholder for articles published a long time ago when the original author is unclear. You can find out more about this publication and find the contact details of the editorial team on the About Us page.