Greg Rutherford interview
MF speaks to the Olympic gold medallist about his training and how he's turned his nutrition around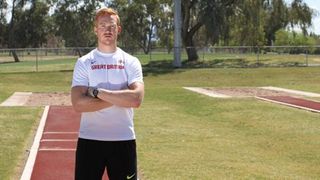 (Image credit: Unknown)
How did you first get into athletics?
I played lots of different sports growing up and was always known as the quick one among my friends. I won lots of races at school and was advised to go along to the local athletics club, tried the long jump and it all just carried on from there.
What does your weekly training regime consist of?
I train every day apart from Sunday with four key sessions a week. The other two sessions I can complete at home or in the woods behind my house while walking my dogs.
How does your strength and conditioning work complement your sprinting and jumping?
Strength and conditioning is vital for strengthening certain muscles that take the load when I jump, and it gives me the ability to withstand high-intensity training.
How has your diet and nutrition evolved over the course of you career?
When I started working with my previous coach, Dan Pfaff, it was like I was re-learning the sport from scratch. He taught me the importance of nutrition, and my training and lifestyle changed from that point onwards. I had to become much more professional and take the initiative to find out what worked for my body in terms of nutrition. In previous years I had actually been making quite a few errors without realising it, so it was really interesting to be shown where I was going wrong and how I could rectify it.
You've recently gone gluten-free. What difference has that made?
The main difference I've noticed is my ability to get much leaner than I ever could before, plus I don't get as bloated. If you have some degree of intolerance to gluten, you should try eliminating it from your diet. It's really easy to stick to, especially as there are some great products out there from companies like Genius Gluten Free. I couldn't live without my morning breakfast of poached eggs on Genius white sliced toast with a lemon muffin for the road! You can pick up gluten-free alternatives in most shops now and there are loads of recipe ideas around to help get you started.
You've had lots of success in the past few year – what keeps you motivated?
Winning! I want to be world champion – and retain my Olympic title in 2016
Greg Rutherford is working with Genius Gluten Free and eats a gluten-free diet as part of his training
Sign up for workout ideas, training advice, reviews of the latest gear and more.
Coach is a health and fitness title. This byline is used for posting sponsored content, book extracts and the like. It is also used as a placeholder for articles published a long time ago when the original author is unclear. You can find out more about this publication and find the contact details of the editorial team on the About Us page.