Upgrade Breakfast With These Healthy Porridge Recipes
Make your morning porridge into an ideal healthy breakfast by adding the perfect ingredients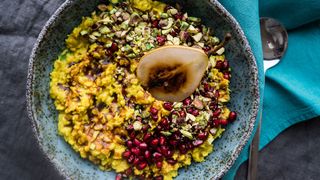 (Image credit: Courtesy Hardie Grant)
Even if you don't subscribe to the popular maxim hailing it as the most important meal of the day, it's always a fine idea to eat a good breakfast. Whereas the wrong breakfast will see you smash your daily sugar allowance before you've started work and raid the snack drawer by 11am, the right one provides the energy and nutrition you need to knock the first half of the day out of the park.
Porridge is the right kind of breakfast. Those wholegrain oats are packed with vitamins, minerals and fibre, and provides slow-release energy that will see you chugging through to lunch. Plus, the milk gives you a decent protein hit. But it's hardly the most inspiring meal so we collate some of our favourite recipes here. Tuck in.
Ginger Spice Porridge
Add some zing to your morning meal with this spice-filled porridge recipe from Bettina Campolucci Bordi, author of plant-based recipe book Happy Food: Fast, Fresh, Simple Vegan (Hardie Grant, £20).
Ingredients (serves three to four)
1 cup (240g) buckwheat flakes
1 cup (240g) oats
3 cups (480g) almond milk
½ cup (120g) water
Pinch of ground cardamom
Pinch of salt
Orange zest
Splash of maple syrup
1tsp turmeric
1tsp ginger
Pinch of black pepper
Pinch of cinnamon
1tsp coconut oil
Method
In a pan, gently heat the coconut oil with the turmeric, ginger and pepper.
Add the almond milk, buckwheat, oat flakes and salt. Heat gently, stirring occasionally until it is all well mixed.
I like adding more spices such as cardamom and cinnamon at the end, but this is entirely up to your tastes.
Divide the porridge into bowls then top it off with the orange zest and maple syrup. You can also add some coconut yogurt, pistachios, berries or seasonal fruits.
Energy-Boosting Porridge Recipe
Ingredients
50g porridge oats
200ml milk. Milk is packed with muscle-building protein and calcium, which helps your body to metabolise fat efficiently.
1tbsp manuka honey. Manuka honey contains methylglyoxal, an antibacterial agent that helps the body to fight infection.
2tbsp pecan nuts, halved. Pecan nuts are high in heart-healthy monounsaturated and polyunsaturated fats, as well as providing another hit of protein.
Handful of blueberries. Blueberries offer pterostilbene, a compound that helps the body break down fat and lower LDL ("bad") cholesterol.
To Make
Put the milk and oats in a pan. Cook over a medium heat for eight to ten minutes, stirring occasionally. Top with the remaining ingredients and serve immediately.
Protein Porridge Recipes
With the right ingredients, porridge can help boost your energy and prime your body to burn fat and build lean muscle.
Vanilla Protein Porridge Recipe
This protein porridge from Multipower ambassador Healthy Jon will fill you up while priming your body to burn fat and build lean muscle.
Serves: 1 Prep time: 5min Cooking time: 5min
Ingredients
1 cup oats (around 250ml)
1 cup milk (around 250ml)
1 tbsp vanilla whey protein
1 tsp honey
½ a vanilla pod
1 cardamom pod
To make
Add oats, milk, protein powder and honey to a saucepan.
Cut the vanilla pod in half and scrape out the seeds, then add them to the pan.
Open up the cardamom pod and cut or crush the little black seeds as finely as you can, then add them to the saucepan.
Place on a medium heat and stir for 5 minutes, then serve.
Nutritional Information: Calories 535, fat 7g (of which saturates 2g), carbohydrate 69g (of which sugars 9.8g), fibre 8g, protein 30.2g
More Protein Porridge Recipes
Fat burner
Ingredients
50g porridge oats
200ml skimmed milk
½ apple, cut into chunks
2tsp grated ginger
2tsp cinnamon
1 scoop of diet whey protein
Calories: 428; Protein: 33g; Carbs: 62g; Fat: 5g
Energy booster
Ingredients
50g porridge oats
200ml semi-skimmed milk
½ banana, sliced
1tbsp honey
Handful of blueberries
1 scoop of whey protein
Calories: 558; Protein: 38g; Carbs: 86g; Fat: 8g
Muscle builder
Ingredients
50g porridge oats
200ml full-fat milk
1tbsp peanut butter
Handful of coconut chunks
1tbsp natural yogurt
1 scoop of whey protein
Calories: 624; Protein: 41g; Carbs: 56g; Fat: 27g
Sign up for workout ideas, training advice, reviews of the latest gear and more.
Coach is a health and fitness title. This byline is used for posting sponsored content, book extracts and the like. It is also used as a placeholder for articles published a long time ago when the original author is unclear. You can find out more about this publication and find the contact details of the editorial team on the About Us page.