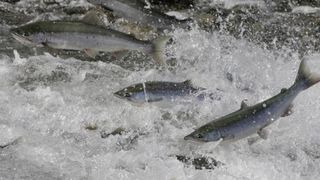 (Image credit: Unknown)
When it comes to nutrition, few foods are as powerful as salmon. Packed with muscle-building protein and soothing omega 3 fatty acids, it's ideal to eat before or after training as part of a main meal or simple snack.
But if you want to get the most of out your seafood, it pays to go wild. Case in point: Alaska salmon, which is particularly lean – it contains just 7% fat compared to between 11-20% in farmed salmon – due to the extra space it has to swim around and build more muscle. Wild Alaska salmon is also remarkably high in protein, with the Keta and Sockeye varieties – both of which are available in Tesco, Sainsbury's, Morison's and Waitrose – containing over 20g of protein per 100g, along with high levels of the omega 3 fatty acid DHA, which helps you maintain a healthy heart, brain and immune system. Wild Alaska salmon also contains all the essential amino acids your body needs, as well as being rich in selenium, vitamins A and D, niacin and riboflavin. The icing on the nutrient-rich cake? It's free from artificial colouring, preservatives, pesticides and GMOs.
Cold comfort
Wild Alaska salmon is typically frozen within hours of being caught (often while still at sea) to ensure that the vitamins, minerals and fresh taste are locked in from sea to plate. But this doesn't mean that you have to wait hours for it to defrost before you can cook it – pan-searing, roasting, frying, steaming, poaching and grilling are all viable culinary options that can easily be applied to it straight from the freezer.
It's also worth noting that wild Alaska salmon – and Alaskan seafood in general – has some of the best sustainability credentials in the world and comes from a clean, wild environment that is respected by the people who fish it. The sustainability of fisheries is even written into Alaska's State constitution, with daily fish counts and advanced fishing techniques ensuring that no species has ever been overfished, while fish stocks are constantly replenished to allow future generations to benefit too. From both nutritional and ethical points of view, it's hard to beat.
Feast on fish
Salmon is probably best known for being smoked or served as a steak, but it's actually a versatile fish with plenty of unusual recipe applications, including the delicious cannelloni recipe below.
Wild Alaska courgette cannelloni
1 x 416g can or 2 x 213g cans of red or pink wild Alaska salmon
4 large courgettes, halved lengthways
2tbsp olive oil
Salt and freshly ground black pepper, to taste
350g jar of bolognese sauce
75g pecorino or parmesan cheese, grated
Preheat the oven to 190°C/gas mark 5.
Drain the canned salmon, remove any skin and bones, and break into chunks.
Using a teaspoon, hollow out the courgettes a little, discarding the seeds, then arrange them in a large baking dish and brush with the olive oil. Spoon the salmon into the hollowed-out courgettes and season with the little salt and pepper.
Spoon the pasta sauce over the courgettes, then sprinkle the cheese on top. Transfer to the oven and bake for 25-30 minutes, until bubbling and golden.
Another type of wild Alaska seafood worth checking out is pollock, an often overlooked but meaty white fish which is ideal in pies or – as you can see in the recipe below – as the main ingredient for a curry.
Alaska pollock curry
400g wild Alaska pollock fillet, thawed if frozen
3tbsp olive oil
1 onion, chopped
2 garlic cloves, crushed
1tsp cumin seeds
1tsp ground coriander
1tbsp korma or mild curry powder
1 courgette, sliced
1 carrot, chopped into chunks
1 aubergine, chopped into chunks
1 red pepper, deseeded and chopped into chunks
2 x 400g cans chopped tomatoes
450ml vegetable or chicken stock
1 x 400g can chick peas, drained
50g red lentils
2tbsp coriander, chopped
Salt and freshly ground black pepper
Rice, to serve
Pat the wild Alaska pollock fillets dry with kitchen paper and then cut them into large chunks.
Heat the olive oil in a large saucepan. Gently fry the onion and garlic for two to three minutes, until softened. Stir in the cumin seeds, ground coriander and curry powder and stir for a few seconds.
Add the courgette, carrot, aubergine, pepper and canned tomatoes. Pour in the stock and add the chickpeas and lentils. Bring to the boil, then reduce the heat and simmer for 20-30 minutes, or until the vegetables are tender and the lentils are soft.
Add the pollock chunks to the saucepan, stirring them in gently. Simmer the curry for a further five minutes to cook the fish. Stir in the fresh coriander and season, adding salt and pepper to taste.
Ladle into warm bowls and serve with rice, cooked according to packaging instructions.
Win £250 worth of supermarket vouchers plus a month's supply of canned salmon! Enter now at www.alaskaseafood.co.uk for your chance to win and also to find out more about the nutritious and healthy benefits of eating fresh, frozen or canned Alaska salmon and for more inspiration as well as some amazing recipes.
ActivInstinct
We don't need to just eat well to maintain a heathy lifestyle – keeping fit is essential to maintain a healthy lifestyle and it's never been more popular.
Swimming is the ideal sport to keep you fit and healthy, whether at your local pool or gym, out at sea or for the really brave a cold lake in the English countryside. It's also essential to be prepared and have the right swimwear and accessories, whether it be a wetsuit, goggles or a precision timing watch.
As one of the UK's leading online sports retailers, ActivInstinct stocks a full and extensive range of some of the best brands in the business, from Aqua Sphere to Speedo. ActivInstinct top picks for this season are:
Orca S5 wetsuits. It is the most buoyant entry level wetsuit on the market and is designed for maximum flexibility. The wetsuits are available for men and women.
Aqua Sphere K180+ goggles. The high-performance goggles that offer fantastic durability and distortion-free 180° range of vision. The goggles are available in two colour schemes.
The Brooks Racer ST 5 running shoes. The shoe is super-lightweight for racing but has the substance and durability required for tempo runs and training.
TomTom Multi-Sport Cardio watch. The built-in heart rate monitor allows you to track accurate heart rate information as well as distance, time, pace, speed and calories burned. It's your perfect companion for every run, cycle or swim.
You can also check the full swimming range at www.activinstinct.com/more-sports/swimming/
ActivInstinct is passionate about sports and understands why people participate in sports – it's all about being competitive and enjoying the activity, whether you're competing against others or just against yourself. In fact passion, ambition, competition and the desire to perform run through everything we do at ActivInstinct, whether that's getting you the best products at the most competitive prices or giving you the best service before, during and after you shop with us. ActivInstinct not only has a huge range of swimming products available online but is also competitive in many other sports including running, tennis, outdoor, football and rugby, just to name a few.
Sign up for workout ideas, training advice, reviews of the latest gear and more.
Between 2010 and 2016, Ben was the deputy editor of Men's Fitness UK, which predated, and then shared a website with, Coach. Ben also contributed exclusive features to Coach on topics such as football drills, triathlon training plans and healthy eating.