Should You Switch to a High-Fat Diet?
Food science expert Tim Noakes explains how switching to a high-fat diet can revolutionise your fitness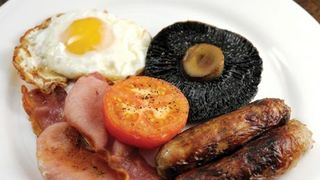 (Image credit: Unknown)
I developed type 2 diabetes from what I thought was a healthy high-carb diet. I exercised regularly – I've run 70 marathons – and avoided high-fat food. I even wrote a book called Lore Of Running advocating a high-carb diet. But I was wrong. My pancreas basically ran out of energy and stopped producing insulin.
Now I worry when I watch the London Marathon. Most of the guys running in over six hours are fat. They're fat because they ate lots of carbs (assuming they could tolerate them like the lean runners at the front) and are insulin-resistant. That group would run faster, feel healthier and live-longer if they went on a high-fat diet.
Very few people metabolise carbs efficiently – instead, carbs stimulate your appetite. Your energy initially spikes, and then it dips. Fat, on the other hand, is filling and provides sustained energy. Lean, athletic people can also benefit from a high-fat diet. After the Australia cricket team lost the 2013 Ashes series, they adopted this diet. The players found they could concentrate better and didn't get tired. In the next Ashes series, three months later, they won 5-0.
Chewing the fat
So how can you switch from a carb-reliant diet to a fat-reliant one? If you're significantly overweight, you need to cut out carbs and switch to good fats because your body is probably addicted to sugar. It might make you feel terrible at first but you'll feel better in the long run.
If you feel you could lose 4-5kg it's not essential to cut them out completely, although sugars (including honey) and processed foods are out. Aim to cut down to around 200g of carbs a day (most people average 300-400g), but pasta or pizza once a week is fine. Replace the carbs with healthy fats from fish, macadamia nuts, avocado, dairy (including butter, cheese and milk) and coconut and olive oils.
Breakfast is key to this diet – it's the meal where people are most likely to overindulge in carbs. Instead, eat a high-fat English breakfast of bacon, eggs, mushrooms, sausages and tomatoes (but no fried bread). In general, eat lots of leafy green vegetables and avoid starchy ones such as potatoes.
These changes might lower your exercise tolerance at first. But after four to five weeks it will be better than before – as will your life expectancy.
The Real Meal Revolution by Tim Noakes, Jonno Proudfoot and Sally-Ann Creed is published by Robinson on 30th July, priced £20
Wing Man
Add fat to chicken the healthy way with this Noakes-inspired recipe for spicy chicken wings with blue cheese dip
Ingredients
24 chicken wings, tips removed and cut in half at the joint / 50g blue cheese / 50g cream cheese / 200ml buttermilk / Handful of parsley, chopped / Small bunch of chives, chopped / 500g parmesan cheese, grated / 250g butter, melted / 3tsp dried oregano / 1tsp dried chilli flakes / 3tsp paprika / 3tsp dried parsley / Salt and black pepper
To make
Preheat the oven to 180°C/gas mark 4. Blend the blue and cream cheeses, buttermilk, parsley and chives to make the dip.
In a bowl, mix the Parmesan cheese, oregano, paprika, parsley and salt and pepper. Dip each wing in melted butter then into this seasoning mixture.
Place the wings on a foil-lined baking tray and roast for around 40 minutes until dark and crisp.
Sign up for workout ideas, training advice, reviews of the latest gear and more.