Taste of London: Your Summer Menu
As the Coachella of nourishment rolls into town, we look at new food trends and drinks, plus how the dining scene has changed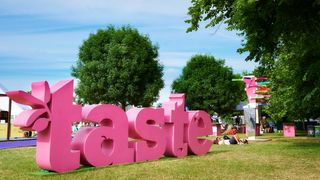 (Image credit: unknown)
In This Series
Taste of London: Your Summer Menu
Taste of London: Your Summer Menu
Taste of London is a five-day celebration of food and drink held in Regent's Park from June 15-19. Instructions are simple: wander around, drink and eat your fill from a gathering of foodie-land's biggest and most interesting players. And while you wolf down your chud, you can listen to music, attend talks or get involved in various interactive tasting classes.
There are two 4-5 hour sessions a day (lunch and dinner). Standard tickets cost £16 (Wed/Thu), £21 (Fri), £28 (Sat and Sun). Luxury tickets are available on the website, which include free champagne, access to the VIP lounge and other extras. london.tastefestivals.com
London's New Food Trends
10 vindaloo-hot chefs on the items thrilling the fashionable palate over the next 12 months.
I know I am biased, but Basque food is taking the world by storm at the moment. Everywhere you go, people are either talking about the delights of the simple pintxo [little, but often massively creative, pieces of food] or the wonders of first-class cooking at places such as [top Spanish restaurants – in Spain] Arzak and Etxebarri. It's a gem of a place and full of the most incredible culinary vibes.
But is it good for me? Basque cuisine uses a lot of fish – and most of us could do with more of that. However it also has plenty of sausages and cured meats which, although delicious, are less healthy.
We believe that this summer's trends have been building for years and it's all due to one simple ingredient – chilli. They come in many varieties, sweet, bitter, hot, fruity, painful, but one trend so apparent in London at the moment is the western palate evolving to have a taste for the fiery stuff. Gone are the days of sweet, slimy and depressing marinades.
But is it good for me? Keep it out of your eyes and chilli peppers won't do you any harm. A British Medical Journal study suggested that people who eat fresh chilli peppers are less likely to die of cancer or diabetes.
I think that pasta will be a big hit [again] over the coming months – the likes of Padella and P. Franco are doing excellent and interesting pasta combinations. Margot is launching late this year with pasta as a focus, too.
But is it good for me? Pasta is a very carb-heavy food so beware of large portions of it when you know you won't use the energy it gives your body – it can make you fat. There's a reason marathon runners eat big bowls of pasta the night before a race…
RECOMMENDED: Carb Loading Before Running a Marathon
Claudio Cardoso, Sushisamba
People are continuing to look into healthier options with the ever-expanding trend of using products that keep your body young. Products such as turmeric, agave nectar, soursop [new fruit klaxon! Some say it tastes of strawberry, others pineapple. Looks like a green testicle with stubble. Beware claims of magic anti-cancer properties] are key ingredients right now.
But is it good for me? Some studies say turmeric is effective in treating ailments but even if you're sceptical you can be confident this spice isn't harming you; agave nectar is "natural" and has been used medicinally in some cultures but is packed with sugar; soursop won't cure cancer says Cancer Research UK, but it's a fruit so is unlikely to have a negative effect on your health.
This summer will see more vegetable options on the barbecue. From squash to aubergine, vegetables can be incredible on the grill. Add a green sauce for dipping or drizzling – made from loads of fresh herbs, a good glug of olive oil, salt and pepper, then blend.
But is it good for me? You can never have too much veg when you're looking to be healthy and adding it to your BBQ repertoire is a good idea. Even the dipping sauce will be beneficial as long as you're not too generous with the salt and don't go crazy with the oil.
Japanese shaved ice [called kakigori, essentially a fancy slush puppie that you eat rather than drink] is going to start making waves this summer. We are bringing it to Roka Aldwych on the brunch desserts and incorporating it into some cocktails too. At Taste of London we are planning to do a few demos and tastings from our stand, so visitors can get a first taste before it goes on to our menus.
But is it good for me? Ice itself is obviously calorie-free but once you add syrups or sweeteners to it things can escalate quickly. Approach it like ice-cream rather than ice cubes.
Pascal Aussignac, Club Gascon
I believe that this year and next will see the upmarket take on street food and food trucks or stalls, where top chefs will be more involved in street food to raise the quality to the next level.
But is it good for me? Most street food/truck options fall into the "occasional treat" category with many options being extremely indulgent and calorie-packed.
Middle Eastern food is going to be very big again, with lots of new restaurants popping up all around London throughout the summer. This trend isn't just limited to restaurants though, as it's also appearing in home cooking as well; with the release of Sabrina Ghayour's new cookbook Sirocco which has just launched.
But is it good for me? Middle Eastern cuisine features lots of olive oil, vegetables, wholegrains and fish so on the whole is terrific for your health.
For the past decade, London has been screaming out for Caribbean food with flair. You have chefs such as Jason Howard taking classic Caribbean flavours and recreating dishes using modern and innovative techniques. His fine-dining experiences have been a great success in London, and I know there are plans for a big brand to take Caribbean food to the high street.
But is it good for me? Yes, if you can handle some of the spicy dishes. Caribbean food is usually based around fish or lean protein, plus lots of beans and legumes. The sweet potatoes and dark leafy greens are a good health boost as well.
Amico Bio sugar-free cakes, desserts and ices are what the discerning diner will be ordering this summer.
But is it good for me? Eating something that hasn't had sugar added is always a bonus for your health, although beware of products that are packed full of artificial sweeteners to improve taste.
Sign up for workout ideas, training advice, reviews of the latest gear and more.
Gary Ogden wrote for the print edition of Coach between 2015 and 2016, writing features, interviewing celebrities and covering entertainment. He has also written for ShortList.