Healthy Hummus That's Made From Wonky Veg – File Under Our Favourite Things
Fill your fridge with a fresh type of chickpea-based goodness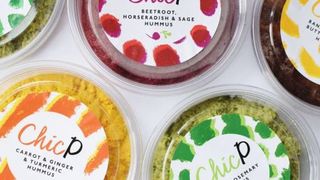 (Image credit: Unknown)
Whether it's a part of your new healthy-eating regime in 2017, or your got-in-late-after-work staple, chances are that hummus is a foodstuff that's never far from your big shop list.

In fact, a 2013 survey into the country's eating habits found that a whopping 41% of UK fridges possessed a pot of the protein-rich chickpea dish. What's more, our love of the stuff has sent sales soaring above the £60 million-a-year mark. The UK's enviable title of "Hummus Capital of Europe" is pretty well earned, it seems.

Not only does entrepreneur Hannah McCollum know this, but she's on a mission to use our insatiable appetite for the Middle-Eastern creation to reduce the wild levels of food waste that occurs along the road from farm to fork.
McCollum's new creation, ChicP, is an award-winning, healthier and forward-thinking range of hummus. It utilises the whopping 40% surplus of fruit and vegetables that gets rejected by supermarkets because of irregular shapes, and turns them into low-calorie, sweet and savoury versions of the dip that are also free from gluten, sugar and dairy.
"Over the last 9 years, I've cooked for catering and events companies and as a private chef in the UK and Europe," says McCollum. "Having witnessed the colossal amounts of food waste at catering events, I felt driven to respond. While cooking as a private chef, time and time again I would convert leftover vegetable dishes into dips for the next meal. Nearly every day the question would be 'What's the dip of the day Hannah?'."

Now McCollum has brought her bright and healthy dips to the market, not only offering consumers an option with fewer calories than any of its rivals, but also supporting British farming by making the most of their bin-bound wares.
ChicP is currently stocked at Wholefoods, Fortnum & Mason, As Nature Intended, Sourced Market, Rude Health Cafe, Pickles of London and a number of smaller outlets in and around London, with more stores including Harrods and Selfridges coming soon. Its RRP is £2.50 – a small price to pay for a dose of rewarding bodily and environmental goodness.

What's more, you can now be a part of McCollum's journey (and do even more good) by helping fund ChicP's Tesco BackIt campaign – a platform that aims to promote and aid projects that address the food waste issue – and take her idea nationwide.
Sign up for workout ideas, training advice, reviews of the latest gear and more.
Craft beer drinker, Devonian, fisherman and former content director of Coach online, Chris contributed style coverage and features between 2016 and 2019.