Personal Trainers On Their Favourite Takeaways
Order in with impunity like these healthy specimens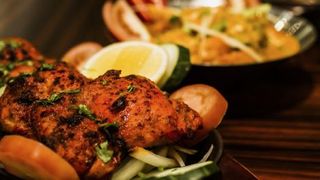 (Image credit: Unknown)
Hey, look, it's nothing to be embarrassed about.
Be it from the dog-eared menu stuck to your fridge or the faithful Deliveroo app, ordering in once in a while needn't be a dirty little secret. We know that nonstop smoothies can get boring. We know mouthful after mouthful of kale can get dull. And we know that cooking up a healthy dinner for yourself every single night isn't always possible. And when that becomes the case, there'll always be a man on a moped ready and willing to make sure you don't go to bed on an empty stomach. Thank that man. Tip him well.
What's more, the last person you should be hiding your guilty pleasure from is your personal trainer. Why? Because they're doing exactly the same, what with their long and exhausting schedules eating into their cooking time. And here's the proof.
RECOMMENDED: 20-Minute Meal Ideas From Super-Fit Personal Trainers
We grilled ten super-healthy personal trainers for their go-to takeaway dinners, from new vegan options to healthy alternatives to ordering smart. So get ready to take delivery of a new approach to ordering in.
Kaya Cansfield, Psycle London Ride Instructor
"Cook Daily, a small vegan restaurant in Shoreditch. Honestly, I get food from them about four times a week. I'd recommend ordering Yoga Fire, Le Garden or High Grade – the last one is stir-fry veggies with hemp oil in a smoky sweet-and-sour BBQ sauce. It's unreal."
Mark Crowhurst, Spin And T3 instructor At TRAINFITNESS
"Without a doubt, a curry. If I'm really on a blow-out I'll go for butter chicken, but if I want to keep things slightly under control I choose tandoori items from the clay oven. That way, I can avoid the heavy sauces."
RECOMMENDED: The Foods Personal Trainers Always Have In Their Kitchens
Dan Lambert, Maximuscle Personal Trainer
"Domino's! Pizza is the food of the gods. Being a fitness professional doesn't mean having to miss out on awful Saturday night TV and a food coma. It's all about the balance – I'll make sure my other meals that day are low in fat and carbs and earn each slice with an intense workout. You don't want to feel guilty for eating the things you love. Just make sure they're not interrupting your progress."
Leo Savage, Trainer At Third Space
"I'm straight on Deliveroo and onto Byron Burger. My wheat intolerance means I can't eat burger buns, but they have the option of going 'naked' – without bread. I double up on the beef patty and add cheese and sweet potatoes on the side. It's a solid meal."
Daniel Puddick, Personal Trainer And Founder Of Sundried Activewear
"I love savoury, salty and carby foods, and Chinese ticks all the boxes. From the right restaurant it can be so filling and my local place does an amazing crispy duck dish. I don't try to pretend it's healthy in any way, so my wife and I limit ourselves to one takeaway a month – especially since our kids need a healthy diet."
Olu Adepitan, Fitness Manager At BXR London
"I love Indian food and I'll always order a king prawn dish. They're a much better source of protein and much lower in saturated fats than the red meat choices on the menu."
Sign up for workout ideas, training advice, reviews of the latest gear and more.
Craft beer drinker, Devonian, fisherman and former content director of Coach online, Chris contributed style coverage and features between 2016 and 2019.