What nutrients should you take on each day?
Here's a list of the nutrients you should be taking on each day, the quantities and the foods you can them from.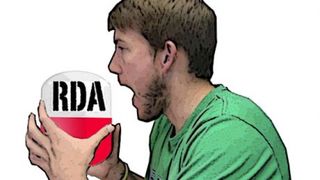 (Image credit: Unknown)
Do you ever wonder exactly how much of each of the major nutrients you should take on each day? Wonder no longer. Nutritionist Henrietta Bailey of sports medicine clinic Pure Sports Medicine (opens in new tab) fills you in on your reccommended daily allowance (RDA).

Not only does Bailey revealed what an average fit man needs (a guy who does no more than a three half-hour to 45-minute exercises sessions a week), she also gives the requirements of a bodybuilder who gets through several hardcore weight training sessions in a week and an endurance athlete who runs three to five times a week.
Calories
Average man 2,500
Endurance athlete 3,000-3,500 (up to 10,000 during Arctic expeditions)
Bodybuilder 2,500-3,000

Carbs
Average man 5-7g per 1kg of body mass
Endurance athlete 7-10g per 1kg of body mass (70 per cent of dietary intake)
Bodybuilder - 5-7g per 1kg of body mass for workouts of less than 90 minutes, 7-10g per 1kg of body mass for more than 90 minutes.
Best sources potatoes, rice and orange juice

Fat
Average man 20 per cent of diet
Endurance athlete Less than 30% of diet, with 10 per cent saturated fats
Bodybuilder 20 per cent of diet
Best sources nuts, fish and oils

Protein
Average man 0.8-1g of protein per 1kg of body mass per day
Endurance athlete 1.2-1.4g of protein per 1kg of body mass per day
Bodybuilder 1.4-1.8g of protein per 1kg of body mass per day
Best sources meat, fish and pulses
Water
For all adults the ideal range is 1-2 litres
Best sources fruit and veg as well as water (obviously)

Salt
For all adults no more than 6g of salt a day (about a teaspoon's worth)
Best sources ready-made sauces, meat and bread

Calcium
For all adults 800mg a day
Best sources milk, cheese and yoghurt

B vitamins
For all adults
B1 0.8-1mg a day
B2 1.1-1.3mg a day
B3 13-17mg a day
B5 10-200mcg a day
B6 200mcg a day
B12 1.5mcg a day
Best sources wholemeal bread, cereals, red meat and eggs
Potassium
For all adults 2000mg a day
Best sources vegetables, fruit and unprocessed cereals

Sodium
For all adults 2,400mg a day
Best sources canned vegetables, fish, meat and ready meals

Phosphorus
For all adults 800mg a day
Best sources cereals, meat, fish and dairy products

Magnesium
For all adults 300mg a day
Best sources cereals, vegetables, fruit, potatoes and milk
Zinc
For all adults
15mg a day
Best sources meat, eggs, milk and dairy products

Iron
For all adults
10-14mg a day
Best sources Red meat, liver and green leafy vegetables

Iodine
For all adults
150mcg a day
Best sources seafood, cow's milk, eggs, and strawberries

Selenium
For all adults
70mcg a day
Best sources Brazil nuts, meat, tuna and soya beans
Chromium
For all adults
0.025mg of chromium a day
Best sources onions, oysters, liver and wholegrains

For more expert nutrition advice, subscribe to the magazine. We'll give you five issues for £5 (opens in new tab).
Sign up for workout ideas, training advice, reviews of the latest gear and more.
Coach is a health and fitness title. This byline is used for posting sponsored content, book extracts and the like. It is also used as a placeholder for articles published a long time ago when the original author is unclear. You can find out more about this publication and find the contact details of the editorial team on the About Us page.