Life-lengthening Mediterranean fish
This fishy dish will increase the length of your life.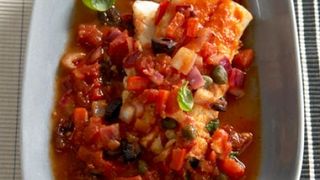 (Image credit: Unknown)
Serves 2
Per portion: 456 calories, 42.8g protein, 10.6g fat, 
23.6g carbohydrate, 0.7g salt

You will need
2 thick-cut cod steaks
2tbsp olive oil
1 red onion, chopped
1 red pepper, chopped
1 clove of garlic, chopped
400ml can of tomatoes
300ml red wine
Fresh basil leaves, torn
2tbsp black olive slices
1tbsp capers
Salt and freshly ground pepper
How to make it
Preheat the oven to 190°C/Gas Mark 5. Heat the olive oil and fry the onion and garlic for a few minutes. Add the tomatoes, pepper, olives, capers and basil, season and simmer for five minutes. Place the fish steaks in a casserole dish, season and sprinkle with lemon juice, then pour over the sauce. Cover and cook in the oven for 25-30 minutes.

Why should I have it?
Olives and olive oil contain healthy monounsaturated fats, which are good for your cholesterol levels and are more stable in the body so 
they won't clog your arteries. A regular intake of red wine is linked with a decreased risk of heart disease because it contains polyphenols, which act as antioxidants. 
Just don't make it too regular, or it will lead to acting like an idiot. Red peppers are a good source of the antioxidant betacarotene, which is important for mopping up cancer-causing free radicals in the body. Garlic contains allicin, which is believed to boost the immune system as well as helping to reduce the risk of heart disease by 
lowering cholesterol levels.
Click here for more one-pot wonders (opens in new tab)
Sign up for workout ideas, training advice, reviews of the latest gear and more.