Root vegetable weight loss roast
This root vegetable roast will help you shift fat.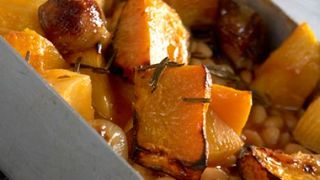 (Image credit: Unknown)
Serves 4
Per portion: 223 calories, 8.9g protein, 
6g fat, 37.2g carbohydrate, 1.5g salt

You will need
8 shallots
1 Jerusalem artichoke, peeled and diced
1 small butternut squash, peeled and diced
1 celeriac, diced
2 large cans (400g) of baked beans
Fresh thyme
Fresh rosemary
2 cloves of garlic, crushed
2tbsp olive oil
Salt and freshly ground pepper
How to make it
Preheat the oven to 220°C/Gas Mark 7. Cut the veg into chunky pieces, place in a casserole dish, add the herbs, garlic, olive oil and lots of seasoning and mix well. Cook for 30 minutes. Remove from the oven, add the baked beans, stir and cook for another 10 minutes.

Why should I have it?
Root vegetables make this stew filling without piling on the calories (unless you forget to invite three people round to eat it with you, that is). The baked beans are high in protein, which helps to promote a feeling of fullness and feeds back to the brain telling you to stop eating. Jerusalem artichoke has a low GI, which means you're less likely to feel hungry again a few hours 
later and start tearing the kitchen apart in search 
of forgotten leftovers.
Click here for more one-pot wonders (opens in new tab)
Sign up for workout ideas, training advice, the latest gear and more.