Immune-boosting lamb stew
This lamb stew will help prevent the onset of illness.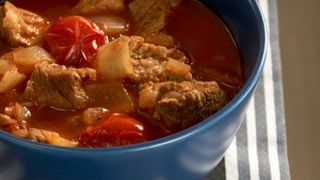 (Image credit: Unknown)
Serves 4
Per portion: 500 calories, 52.2g protein, 
22.3g fat, 24g carbohydrate, 0.4g salt

You will need
900g diced lamb
200g can of flageolet beans
2tbsp oil
2 large onions, chopped
2 cloves of garlic, chopped
600ml lamb stock
1 large can 
of cherry tomatoes
Fresh thyme
1 bay leaf
Salt and freshly ground pepper
How to make it
Preheat the oven to 150°C/Gas Mark 2. Place the casserole dish on a high heat, add the oil and brown 
the meat. Add the onions and cook for a few more minutes, then add all the other ingredients, transfer to the oven and cook for at least one hour – or up 
to three, depending on your taste. The longer you leave it in the oven, the more tender the meat will become, and the sauce will get thicker.

Why should I have it?
Lamb is a good source of immunity-boosting zinc, which can stop the onset of a cold by preventing 
the virus attaching itself to the lining of the nose. You have to eat the lamb, by the way. Don't stuff 
it up your nostrils. The beans also help you fight off infections by providing selenium, one of the most important nutrients for the immune system. The tomatoes 
give vitamin C, which can't stop a cold once it starts but can reduce the severity and duration. And if things get really bad, you can use any spare bay leaves as emergency hankies.
Click here for more one-pot wonders (opens in new tab)
Sign up for workout ideas, training advice, the latest gear and more.