How to Get Fit Outside with Matthew McConaughey
The True Detective star reveals why the first step for a hero's physique should always be getting outdoors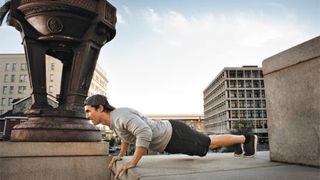 (Image credit: unknown)
Matthew McConaughey is creeping through the Costa Rican jungle, wielding a machete to slash through dense swathes of vegetation. His clothing is drenched in sweat – not so much from the exertion but distress. He's alone. Scared. Yet also energised.

'The sounds you hear… you think everything that moves is a gator, a wild boar, a jaguar,' the actor says. He's equipped with only his lucky green headband, 'a shitload of insect repellent' and a headlamp for a light source. 'Your adrenaline is pumping because you don't know what to anticipate with the next step. Every movement is like a new, four-dimensional "oh, shit!".'
Outdoor type
Is this perilous late-night trek part of a big-budget action flick? No. It's just McConaughey on holiday. This is just what he does when he's not at work. 
When he was growing up in Longview, Texas, McConaughey's mother always told him, 'If it is light outside, you must be out of the house'.
This partly explains why he prefers outdoor workouts – jungles and trails – instead of training in a gym, and why for years paparazzi have snapped pictures of him running, usually shirtless, often on a beach. 'It's always been a lifestyle,' he says. 'Then it became something that was like, "Hey, it's also good for my job." I'm not a professional athlete, but I have a job where I prefer to look good and be as healthy as possible.'
Just keep living
Today, McConaughey strives to share his love for life and healthy eating. It all fits under his philosophy: just keep livin'. A phrase that has become his personal mantra since he first uttered it in his breakout role in Dazed And Confused. It provided the name for jk livin, the non-profit foundation he started in 2005 to encourage children to make positive and healthy changes in their lives by getting more exercise.

McConaughey, at 41, knows fitness is about more than just looking good. It's about being able to keep up with his children (son Levi, two, and daughter Vida, one) without gasping for air. It's about transforming his body for roles, whether he's playing a baseball player (Angels In The Outfield), small-town sheriff (Lone Star), dragon slayer (Reign Of Fire) or a defence lawyer, as he does in his latest film, The Lincoln Lawyer.
Depending on the role, his weight swings from 80 to 84kg. 'Matthew can do hundreds of press-ups, and he's mobile like a yoga person,' says his trainer, Peter Park, whom McConaughey met through fellow Texan, Lance Armstrong. 'His fitness is through the roof. He's not like Lance in aerobics, but he can hold his own.' On occasion the actor and cycling legend have even trained together. 'You quickly learn what the back of Lance's jersey looks like,' says McConaughey.
California dreaming
When he's not preparing for a film, McConaughey trains with Park at his California home. A typical day (see the box, right) might include pull-ups on the kids' swing, followed by sprints, press-ups, one-legged squats, and finally kettlebell work. He'll also take his bike out on the road.

'He likes challenging stuff,' says Park. 'He'd be bored stiff going into the gym and doing one of those basic workouts.' One favourite exercise is picking up a dumb-bell, or any weighty object, and holding it for 15 minutes. 'It's not as simple as it seems,' he says. 'You shift the weight from high above your head, in your right arm, then your left, then rest it on your shoulders, adding more weight to your back, then your legs. You get a full-body workout just by finding out how many positions you can manage without having to set the weight on the ground. You also discover the stronger and weaker spots in your physique.
For the workouts other movie stars have used to get shredded for the big screen, subscribe to our magazine, or download digital versions for it. Or both!
McConaughey's natural workout
Perform these exercises one after the other without rest in between. After the last exercise, rest for a minute or two. Repeat for three to ten circuits.

One-leg squat hop
- Stand on one leg and hop forward five times.
- Perform five single-leg squats.
- Continue twice more on the same leg, then repeat on the opposite leg.

Hand walk
- In a press-up position, 'walk' by moving only your hands and ankles. Don't bend your knees but do keep your abs tight.
- Every ten 'steps', perform five press-ups. Keep going until you've done 15 press-ups.
Traffic light lunges
- Perform five walking lunges at a normal pace (green light), and then your next five as slowly as possible, descending very gradually into the lunge position (yellow light).
- After the fifth slow lunge, hold the lunge position for five seconds (red light).
- Continue until you've done 15 lunges of each type.

Tree branch pull and raise
- Hang from a tree branch, pull-up bar, or monkey bars.
- Perform one pull-up, lower your body and do one leg raise.
- Repeat eight times.
Sign up for workout ideas, training advice, reviews of the latest gear and more.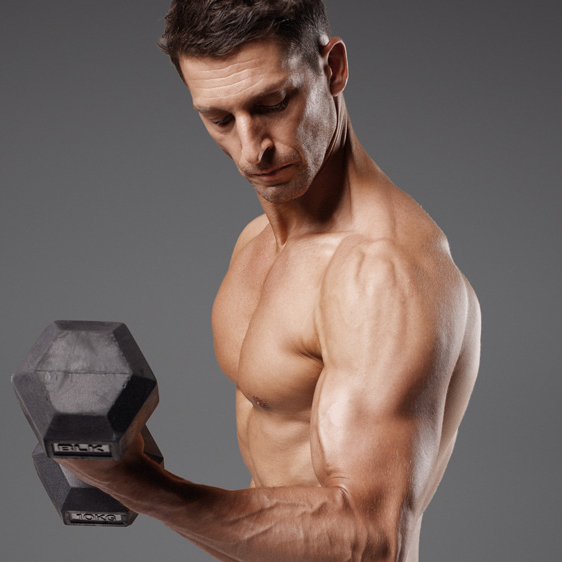 Former editor of Men's Fitness UK
Joe Warner is a highly experienced journalist and editor who began working in fitness media in 2008. He has featured on the cover of Men's Fitness UK twice and has co-authored Amazon best-sellers including 12-Week Body Plan. He was the editor of Men's Fitness UK magazine between 2016 and 2019, when that title shared a website with Coach.