Formula E racers' guide to fitness
Virgin racers Sam Bird and Jaime Alguersuari share their secrets to being lean and mean on the racetrack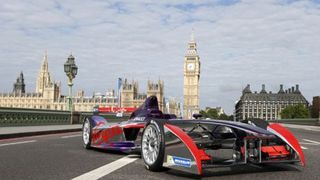 (Image credit: Unknown)
Spain's Jaime Alguersuari, the former formula one racer, and Britain's Sam Bird, who has competed in various racing series including formula three, have joined forces in Formula E – the new motor racing championship for electrically powered cars. In the 2014-2015 racing season, the two will compete for Richard Branson's Virgin Racing team. MF spoke to Bird and Alguersauri to find out how they keep fit and maintain on the go.
What influenced the switch from F1 to Formula E?
Jaime Alguersuari: On the physical side it's a bit different because you train for what you are racing. In general, over time motor sports have changed massively towards both the positive and negative sides of physicality. So, because of this, we have changed our training methods. In F1 when the weight of the car was so light it required much more physical condition to contain yourself and stabilise for two hours in the car. Now we're driving in the first ever electric racing cars.
What sort of speeds do you hit around these tracks?
Sam Bird: They're street tracks which means that the top speeds are going to be less impressive than on a conventional track. We will reach speeds of up to 125-130mph [200-210km/h] and we'll be millimetres away from walls, millimetres away from each other, so it's still pretty fast and still punchy.
Do you have mental strategies in place to avoid lapses in concentration?
SB: Yeah, I'm very used to it now. My mind can wander sometimes but when you need it to it switches on automatically. It's quite different with this series now, because it's just one fully intense day whereas before in other series I've done it's been three days – practice on Friday, qualifying Saturday and the race on Sunday – so you have different mindsets for different things. When it's all in one go, you've got practise, then you've got the adrenaline of qualifying and having to get the job done in that one lap. Bang. Done. Two or three hours later you're back into race mode, it's very different and strange… but I've been able to adapt to it quickly.
What are your strategies for keeping hydrated and eating on the day?
SB: Hydration for me starts long before the day of the race – if you only start hydrating on the day it's way too late. I'd start to hydrate maybe four or five days beforehand and make sure I drink the correct drinks. Nothing fizzy, so it's water and multi dextrose, drinks that give me energy and replenish lost fluids. I make sure I always have a drinks bottle in my hand so throughout the day I'm always hydrated. In terms of fuelling myself, I have a full meal two hours ahead of a race and then a very small snack maybe 45 minutes before the start.
How important is managing your weight as a racecar driver?
SB: It helps, I could be lighter but I also like to train upper body and push very hard. In terms of body parts, I work quite a lot on my neck, so I use the neck machines. You've got to have strong forearms and a strong upper body generally too. You're not wrestling the car exactly, but the cars don't have power steering so after an hour they do feel heavy.
What's a day's diet like for you?
JA: I like to avoid all animal proteins, I understand how important protein is but I prefer to maintain myself with greens, vegetables and fruits and I often carb myself up too. My breakfast would normally be two slices of toast with cheese and tomatoes, or some cereals with soy milk. I also like to have an omelette with egg whites from time to time. I like to go cycling or running once my breakfast has been digested. I do my weightlifting and strength training, three times a week, and try to improve my body's muscle endurance. My midday lunch would be white or brown rice or pasta, which is always accompanied by a healthy salad and maybe some green vegetables. Very rarely I have chicken breast. After this throughout the day I would have a whey protein if I was going to train again, but if not I would fill myself up with nuts and fruits – dates are my favourite. Following this, I would have a light dinner because it is important for me to get a good sleep and if my stomach is full I won't be able to sleep. At dinner I have some carbs and of course vegetables are important – so dinner and lunch meals are very similar for me.
Is it difficult to stick to a carefully planned diet when you travel a lot?
SB: I find it very tough. I tend to stick to what I know – chicken and rice in the hotel. I'm probably not as healthy as I am at the race tracks than I am at home - at home I can control it myself, I can cook it, I can choose if I have complex carbs or simple carbs or whatever I want.
What would a standard workout be like for you at the gym?
SB: Today, I did an hour on the bike and then I did some biceps, triceps and core. I tend to work in the range of eight reps if I'm working on strength and 12 to 15 if I'm doing more endurance stuff, which I do most, because I don't need to get big and bulky. For abs I do side planks, three sets of two minutes on each side.
JA: It has changed a little bit from F1. I train to gain power but at the same time I don't want to gain any weight, so I tend to do less weight with more reps. I also do a lot of interval training so five to ten exercises without a rest and then the interval training on the bike, combined with some abs exercises or chest. I always make sure there is one day a week where I go for maximum power – low reps at high intensity and as heavy as I can go. This is very different compared with F1 because I was heavier then, so for this I have dropped around 3-4kg. The weight is so important for the car – the lighter you are the more weight you have to play with. That can be very beneficial to help yourself and the balance of the car, which is essential. So at all times we have to remain lean. For me it is hard, as I am tall. For shorter guys it is easier.
FIA Formula E heads to London for the final races of the inaugural championship, on 27th and 28th June. Give the Virgin Racing drivers your #FanBoost vote to help them win an extra boost of power around the track: http://fanboost.fiaformulae.com/
Sign up for workout ideas, training advice, reviews of the latest gear and more.
Features Intern at Mens Fitness Magazine
I am a young, confident and enthusiastic individual who is looking for the opportunity to showcase my skills and abilities on a major platform within the media world. I am computer literate and can operate effectively on all social media platforms.

I have a wide range of experience within media and web but also more specifically within editing having previously been an Online Sports Editor. This role allowed me to gain relevant experience and skills which are key for an editor. I am confident that with the skills which I have developed I can effectively and efficiently undertake the roles and responsibilities this role offers. I have learnt and sharpened many skills from my last job and am confident I can put these skills into practice and further my knowledge and abilities in your company.

Earlier this year, I completed my internship as a marketing officer. I believe taking on any media or journalism opportunity will enable me to further enhance my skills and abilities whilst injecting your company with more creativity and professionalism.

As mentioned, I believe I match all the criteria and am more than confident I can fulfil each of the roles and responsibilities listed with great aplomb.

Thank you for your time and I hope to hear from you soon.