Freddie Flintoff: "It Was All Drinking and Debauchery"
From sparring with Sugar Ray Leonard to catching pigeons, here's how Freddie Flintoff made it to the top of his game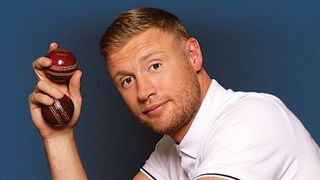 (Image credit: Unknown )
(This interview appears in today's issue of Coach magazine. To find out where you can get your free copy, click here)
Who helped make you a great cricketer?
Funnily enough, a lot of my success comes from the people who didn't want to help me. I went to a quite rough comprehensive school, and cricket was considered a softy's game. I used to get all sorts of comments from the other lads about it, which is why sledging never worked on me when the Aussies tried it later. I'd heard so much worse when I was a kid, often with threats of violence…
When you first turned pro, was there a figure in the dressing room who took you under his wing?
Back then, the senior pros weren't very friendly to the young players. They thought we were going to put them out of a job. When I started with the Lancashire senior side I was only 15, and we went to an away game at Middlesex that was rained off for four days. I just followed my teammates around the bookies, the bars and the nightclubs, which probably wasn't great mentoring, to be honest. When I got back to school, I had to give a speech in assembly about it, but because it had just been drinking and gambling and debauchery, I had to make stuff up.
What about on the field?
When I made my debut, Bumble [David Lloyd] was in charge. He was incredibly kind to me. He insisted that I be allowed to field in the slips, a position which was usually reserved for the old pros. "He's brilliant this lad, you'll see, never drops them, he can catch pigeons." He really lifted my spirits, but then in the first over from Wasim Akram, I dropped a catch. Then I put two more down, at which point Wasim is going crazy and he says, "Get that boy out of the slips or I'll throw him a f****** pigeon myself!"
Which England players impressed you most as people?
Darren Gough was a big-hearted, genuine fellow. He always wanted everyone to do well, even if he didn't have a great match himself. Same with Angus Fraser. But when I started with England in 1998, a lot of the players were very cold and self-absorbed. The conversations were always just them moaning, "He's got a sponsorship deal… I want more money… I want to be man of the match." It didn't really feel like a team at all. People say Kevin Pietersen is selfish, but he was nothing like as bad as some of the people from that era.
Who gave the best captain's speech?
Michael Vaughan was very good. I wouldn't say his speeches were Churchillian, but he always seemed to get his point across. There was no ranting or raving, it was just very measured. When the pressure was on you, he knew how to take it off. In 2005, we got beat in the first Test at Lord's, and when we turned up to the second Test, he spoke to the team about the confidence he had in all of us, and that took away the fear of failure. He helped us to enjoy the series, and I reckon that showed in the way we played.
And who impressed you as a leader?
Andrew Strauss was never a tactical genius, but he had a good attitude to captaincy, which he summed up as, "It's not so much about making the right decisions, as making the decision right." By that he meant that a lot of captaincy is persuading people to buy into what you tell them. Most plans you have on a cricket pitch are only fifty-fifty to work out at best, anyway, so it's what happens after the decision that matters most.
Who in the world of sport is a great example of how a man should live his life?
The problem is, I'm not massively into sport. I love cricket, I like darts, but after that I struggle. The only person who I was really star-struck around was Sachin Tendulkar. Not only is he the best player ever to have lived, but he has the enormous pressure of being a hero to the billion people of India, and he never fails to be a gentleman. He's the ultimate.
What about boxers? You did have a crack at that sport (for Sky 1's The Gloves Are Off).
Andrew Flintoff's Second Innings: My Sporting Life, is out now, published by Hodder & StoughtonSee more like this in Coach magazine. To find out where you can grab your free copy, click here.
Sugar Ray Leonard gave me a training session. He walked into the gym and it was like he was floating. He had such presence that the air in the room felt different. And I also met Mike Tyson. I'm not saying his life has been perfect, but he was funny and articulate. I didn't want to spar with him, mind – he still had this look in his eye that made me think, "If I say the wrong thing here, he's going to knock me out."
Sign up for workout ideas, training advice, reviews of the latest gear and more.
Coach is a health and fitness title. This byline is used for posting sponsored content, book extracts and the like. It is also used as a placeholder for articles published a long time ago when the original author is unclear. You can find out more about this publication and find the contact details of the editorial team on the About Us page.