Oliver Proudlock: "Ab Belts are a Good Form of Torture"
The Made In Chelsea star explains how he keeps fit in between posh lunches and wine-fuelled evenings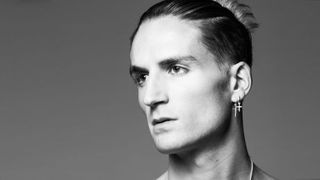 (Image credit: Unknown )
This article appears in the new issue of Coach magazine, out tomorrow. To find out where you can get your copy, click here.
01 Have you ever pulled a muscle in less-than-heroic circumstances?
Oh God! By dancing actually. Occasionally I get quite into my dance moves and I did pull a muscle in the back of my calf doing some extraordinary move the other day. I do tend to get low, and I didn't do my pre warm-up. You've just got to play it off though – I'd had a couple of drinks, so it wasn't too painful.
02 What's your most impressive personal best?
It would definitely be the London Marathon this year – I did it in three hours, four minutes, which was a lot faster than I was expecting. I applied at the last minute because I recently became an ambassador for the British Heart Foundation and just before Christmas they asked if I'd do the marathon, so I didn't start training until mid-January. With all these things, I think "Oh, I could have trained harder, I wish I'd done more," but on the day with the adrenaline and the crowd, you just get that extra bit of a boost. It makes you push yourself more than you ever thought.
03 Which excuse for not going to the gym/working out are you most ashamed of?
I'm making myself sound like an alcoholic, which I'm not, but it's mainly because I've had a night out. Last week I went to a charity event the night before a training session, and they had some red wine there. When I woke up I had a splitting headache – I was so ropey. I went to the gym with my trainer and we did the most intense leg workout: leg press, squats, lunges – I've never felt so bad. Suddenly I got this overwhelming feeling of sickness, so when I came to the office I just had to lie on the sofa all day.
04 What's the longest you've gone without alcohol in the name of good health or fitness?
I did a six-week muscle challenge once, and I didn't drink for the whole of that. It helped my training a hell of a lot, and I woke up every day feeling great after sleeping well. In terms of your development and how much you progress, it makes a huge difference. I just didn't go out – I became a hermit for six weeks. It's very hard socialising while everyone else is drinking because you find yourself getting really irritated because they're so drunk and annoying. You're so aware of everything and you think to yourself, "Oh my God! I must be like this when I go out and get drunk."
05 Have you ever ordered healthily in a restaurant and then scoffed someone else's chips?
Yes, of course. If I know someone else is getting the bad stuff I'll order healthily then obviously finish off their fries. I get food envy – I love my food, so sometimes if I've ordered wrong and I see someone's got beaut food, I just end up finishing their plate.
06 What's your position on kale?
Love kale, huge fan of kale – there are so many ways you can have it. My flatmate's girlfriend dresses it with tahini which is delicious, and I put it in my morning smoothies too. I also like the kale crisps, as long as they're not the cheesy ones – I'm not a huge fan of cheese, apart from mozzarella, but that's so bland anyway…
07 Which health product would you rescue from a burning building?
My favourite is my ab wheel. It's extremely simple – just a wheel with two handles, but those bad boys are the one. What's so good about them is they do your lower back as well as your stomach. I'm doing the exercises on the knees at the moment, but I'm trying to work towards doing it standing up. It's so tough – give that one a pop!
08 Have you ever intervened to correct poor gym etiquette?
No I haven't. I hate that though, because I've had someone I don't know come up to me before and try to correct me on my technique. I find that really annoying – I would never do that.
09 Have you ever bought a piece of exercise equipment but never used it?
Yes. You know those machines that you strap around your stomach, put some lube on and it gives you electric shocks? Ab belts? I bought my dad one and they had a promotion on, so I got one for myself but I never used it. However, if you don't put the lubrication on and you strap it to someone and then turn it on, it's extremely painful – it's quite good if you want to torture someone.
10 In the name of good health or fitness, what's the most extreme thing you've done?
I'd say the marathon was the most extreme thing I've done. It's kind of like I've got a bug for it now, and I want to do more challenging things like that. I'd like to climb a mountain, and I would love to do the Marathon des Sables, which is pretty full on. It's six marathons in six days in the desert, and obviously you're running in the day in the boiling hot with your pack on, then at night you have to camp out in the freezing cold. It sounds horrendous but it would be such an achievement.
Follow Oliver on Instagram @proudlock, and check out his latest fashion range at sergedenimes.com
Sign up for workout ideas, training advice, reviews of the latest gear and more.
Coach is a health and fitness title. This byline is used for posting sponsored content, book extracts and the like. It is also used as a placeholder for articles published a long time ago when the original author is unclear. You can find out more about this publication and find the contact details of the editorial team on the About Us page.