How To Build A Party-Ready Body With DJ Zedd
The Grammy-winning dance artist explains how his body survives non-stop partying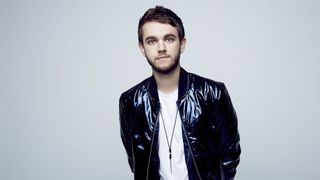 (Image credit: Unknown)
As one of the most sought-after DJs and producers in the world, Zedd knows a thing or two about hard work. He's collaborated with the likes of Selena Gomez and Ariana Grande, and his songs have sold millions all over the world. As he continues on his True Colours tour, we caught up with him to discover what fitness and health tips we can learn from a man who makes his living from all-night raving…
How do you stay fit on the road?
It's a tough one, especially because the catering is usually whatever it is, and you don't have a lot of input on that. We do bring a mobile gym with us, but I don't really use it. However, when I perform, I pretty much do cardio for two hours – I'm jumping all the time, so I consider that part of my workout.
How would you rate your fitness on a scale of one to ten?
Oh boy, I'm afraid of answering that one. I think I'm a 4.9. I could do a little more, but it's pretty hard to do it on tour because the days are busy. When I was at home writing my album, I actually worked out every day, and I was more a six or a seven, but right now there's so many things we have to do – interviews and meet and greets – that it's kind of hard to stay fit on tour.
What do you do to motivate yourself?
That's the part I have to work on! If others go to the gym and they're like "Hey, wanna go?" then I'll go too, but if it's just me, then I probably won't…
How is your fitness fingerprint unique to you?
Great question – I think it's harder when you're working a lot, every day. Especially because there's always something you can do, there's always songs you can write, there's always things you can mix. I don't think I'm the best at it – there are people like Calvin Harris who have a lot more discipline than I do, work out every day and are much better at time scheduling.
How important is health and fitness to you?
It's extremely important. I once had a year where I played over 200 shows, so there wasn't a lot of time off at all. It got to
the point where, when I did have a day off, I felt I had to work at least a little bit – I'd got so used it that I couldn't allow myself a day off. I realised that just taking time off is so important for your mental health. As such, I'm taking four weeks off after my tour, which is something I haven't done for five years. After writing two albums, doing so many shows and writing for a bunch of other artists, I deserve a couple of weeks off…
ZEDD will be playing The Ritz Manchester on Saturday, November 28, and The Forum, London on Sunday, November 29. Visit zedd.seetickets.com/tour/zedd
Sign up for workout ideas, training advice, reviews of the latest gear and more.
Gary Ogden wrote for the print edition of Coach between 2015 and 2016, writing features, interviewing celebrities and covering entertainment. He has also written for ShortList.