John C McGinley: "I Lift Underwater"
The Scrubs star – everyone's favourite TV doctor – says you're not really lifting unless you're at the bottom of a swimming pool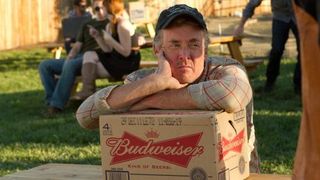 (Image credit: Unknown)
This article appears in the new issue of Coach magazine. To find out where you can get your copy, click here.
1. Have you ever allowed yourself one biscuit and then eaten the whole packet?
ABSOLUTELY! I have a five-year-old and a seven-year-old, and we were talking about our food weaknesses – mine are pizza and popcorn, those are my two blind spots. With everything else, I can employ all this discretion and good behaviour but if I get around pizza, it's like, "Oh, there's a pizza, I'm eating the whole goddamn thing." It's ridiculous. Mr Discipline, and I can't refuse pizza. What a phoney baloney.
2. Which excuse for not going to the gym/working out are you most ashamed of?
I never skip the gym. Although one of our friends didn't show up to train today because he was in Africa recently and brought back a viral infection – he was gladly excused. If you have a contagious anything, you're excused.
3. What's your position on kale?
My wife Nicole has integrated kale into our diet around here for about ten years. It's nothing new in California, but in New York, they act like it's the Second Coming.
4. Have you ever had a mishap on a yoga mat?
My wife is an upper-echelon ashtanga yoga teacher… I can do the sun salutations but that's about it. I've got bones all over the place – sticking out my knees, ankles and elbows. I need so many blocks and pads to do yoga that it's embarrassing, so I'd rather just throw a bit of steel around and tell everybody to be quiet.
5. What's the most extreme thing you've done in the name of good health or fitness?
I lost 60lb [27kg] once to do a film called Highway with Jared Leto, Jake Gyllenhaal and Selma Blair. I didn't eat any solids for the three months before the film and the three months during it – it was the dumbest thing I've ever done because the film sucked. It broke my heart, so I'd never do it again.
6. Would you rather eat a raw steak or a fried insect?
I guess they serve raw steak at restaurants anyway, don't they? Steak tartare – I've eaten that before, so that. I don't like it, but I'd eat it. I don't want to eat fucking bugs. I just read about some guy who survived six days out in the outback without any water – he ate ants for six days…
7. Ever fallen off a treadmill?
No. Also, I don't really use them any more, we do much more dynamic things now. Almost everything we're doing now is about being off-balance – everything's about standing on a ball, or standing on moving plates. It'll change your whole life.
8. If challenged to a feat of strength, what would yours be?
Bench pressing. I can still bench a lot. I use dumbbells because I like to move 'em around, so I take two 80lb and can do 15 reps. I've never tried 90lb, although maybe I should…
9. What's the most unusual thing you do to keep fit?
We all go up to surfer Laird Hamilton's gym, and we're in the pool, where we lift underwater. It involves going up to the surface, getting the air, then coming back down and doing the exercise, then repeating. There's no impact, and it engages the whole lymphatic system – you're working at your peak.
10. Have you ever told another gym-goer to keep the grunting down?
John C McGinley stars in Watercolor Postcards, out now on DVD courtesy of Simply Media
No! Gym grunting is great. But when someone brings a phone into the gym, I just go, "HEY!", then the whole gym stops, and I look at the guy. I don't use any bad language or anything, but you get the message when some 200lb Irish jackass like me goes "HEY!" You're like, "Maybe I should put the phone away and PICK SOMETHING UP."
Sign up for workout ideas, training advice, reviews of the latest gear and more.
Coach is a health and fitness title. This byline is used for posting sponsored content, book extracts and the like. It is also used as a placeholder for articles published a long time ago when the original author is unclear. You can find out more about this publication and find the contact details of the editorial team on the About Us page.