Joe Calzaghe: "Even Chris Eubank is Cool in Real Life"
The longest-reigning super-middleweight boxing champ retired in 2009 with a 46-0 record. This is what he learned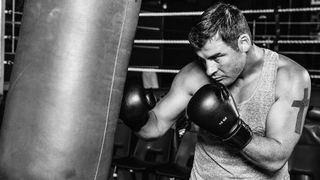 (Image credit: Unknown )
Who has influenced you most in your career?
My dad Enzo. He started me in boxing, bought me my first gloves, and took me to a boxing gym three days a week. Every other day, he would train me himself. I trained like a pro. He's been my main trainer ever since, and if it wasn't for him looking after me, keeping me on the straight and narrow and kicking me up the arse from time to time, I wouldn't have achieved anything.
The boxing business comes across as cutthroat. Is it?
It can be. It's not as bad as it used to be but to be honest, the only thing I dislike about boxing is the politics of it. There's too much greed involved, and too many world titles. The person who suffers is the boxer. I was a world champion for about eight years before I got a unification fight with Jeff Lacey. That very rarely happens, so you end up with about four world champions in each weight class.
Which fighter did you most admire and why?
Sugar Ray Leonard. Back then, boxing was on terrestrial TV and if there was a big fight, everyone would watch it. Sugar Ray was a genius with his antics in the ring. I remember the "No mas" fight, when Roberto Duran had enough and just walked away. It made me laugh, so in my next fight, I was sticking my tongue out and showboating in the ring. The referee warned me and deducted a point!
Which fighter is the most humble outside the ring?
Mikkel Kessler was dangerous, and one of the best I faced, but now we're friends. You don't make friends with many fighters, but most of them are chilled outside the ring. Even Chris Eubank is cool in real life.
Who is the best you ever fought?
In the sense that he was so streetwise, Bernard Hopkins. He would just nullify you. He was so frustrating because he took away your strengths. He was hard to hit, and a lot trickier than I thought he would be. I still beat him.
You were knocked down several times in your career, but always got up to win. How?
It's instinctive. One of my proudest moments in my entire career was after I got dropped for the first time ever, by Byron Mitchell [in 2003], I got up and had him on the floor within seconds. When you get knocked down, you come back twice as bad. Refuse to lose.
What's the nicest thing you've heard of a boxer doing for a fan?
A lot of fighters are involved with charities. I do a lot of work with cancer charities, and I brought a terminally ill child called Jack down to watch the Kessler fight. He was ringside. That was part of the reason I fought so well. I didn't want to lose in front of Jack. Seeing him in the dressing room afterwards with a big smile on his face is something I'll remember for the rest of my life. It puts things in perspective.
You suffered with injuries a lot toward the end of your career. How bad were they?
I was injured since I was about 14. My left hand has been knackered since then, I had to fight with pillows on my hands. After that, my elbows started to go, then my shoulder and my back from all the road running I had done. It got so bad I couldn't spar, and I couldn't even punch properly. Luckily I met someone called Professor John Fairclough, who is an orthopaedic surgeon, and he helped me a lot in my last fights. We're still friends now.
What does it take to be the best in the world?
Talent, sacrifice, dedication, belief. Confidence is massive. If you don't have confidence, you are going to lose. You have to believe that you are going to win whatever happens. That comes from inside. You can't teach it.
Mr Calzaghe is in cinemas on 20th November and on DVD from 23rd November
Sign up for workout ideas, training advice, reviews of the latest gear and more.
Coach is a health and fitness title. This byline is used for posting sponsored content, book extracts and the like. It is also used as a placeholder for articles published a long time ago when the original author is unclear. You can find out more about this publication and find the contact details of the editorial team on the About Us page.