Learn to Be an Adventurer with Sean Conway
Triathlon king Sean Conway wants to sponsor you to take up adventuring, just like he did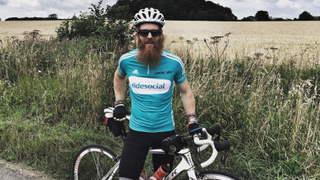 (Image credit: Unknown)
Sean Conway created a brand new challenge by swimming, running and cycling the length of the UK – and now the British ultra-endurance adventurer is offering to financially support your next challenge. Sean went from a broke, jobless guy to an endurance adventurer with high-profile sponsors with a bit of charm and a lot of determination, and now he wants to help others achieve their wildest (literally) dreams.
Start like Sean
"Four years ago I had £1 to my name and that was it, so I had to work really hard on proposals to potential sponsors and show determination to achieve what I set out to do – attempting to cycle round the world," says Conway. When he managed to convince a local business owner to fund his first challenge, he says, "it gave me the ability to do what I wanted, which brought with it a new lease of life and improved confidence". He has now set up his own scholarship scheme to give others a similar opportunity.
Risk your reward
It's vital to choose a challenge that lives up to the name and is truly demanding. "There has to be a massive element of risk – without it, where's the human interest?" says Conway. "I want there to be a massive chance you won't make it. That may sound harsh, but without the potential for failure you'll struggle to capture my imagination – and that of anyone you ask to sponsor you." There's a perverse pleasure in seeing people fail, but watching them almost fail and then succeed is a far more exciting journey to get behind.
Fear failure
Don't think of the glory of success to get you through the tough times. Imagine the crushing disappointment of quitting. "Fear of failure is a far bigger motivating factor than the potential rewards of success," says Conway. "When I swam the length of Britain not once did I think, 'I'll get a good book deal off the back of this'. Focus on your current goal, whether that's to get to the end of that day or the end of the road, and enjoy the process." The challenge then becomes about bettering rather than rewarding yourself.
Reach for the stars
"I want big dreams, difficult dreams – and most of all – bonkers dreams," says Conway, whose grants will help anyone pursuing a dream that's held back by financial restraints. He's not intending to "top up someone's Everest fund" and insists the money will only go towards challenges that mean the most on a personal level. "The perfect pitch would be someone with a crazy dream who simply can't afford to do it by themselves."
Make your story inspiring
Conway also knows how to get more people behind you. "Be genuine," he says. "Audiences are smart and if they think you're not being authentic they'll lose interest and won't follow or share your story. Find a creative way to share it. People respond better to images so if you're climbing a mountain, for example, don't just tweet how hard it is – show them." Need some inspiration? Check out seanconway.com for sponsorship application details and Conway's own adventure blogs.
Sign up for workout ideas, training advice, reviews of the latest gear and more.
Max was the head of digital content for Men's Fitness which worked alongside Coach between 2015 and 2019.