Walton Goggins: "Filming The Hateful Eight was freezing!"
The hard-training actor on difficult conditions, being friends with Tarantino and making time for the gym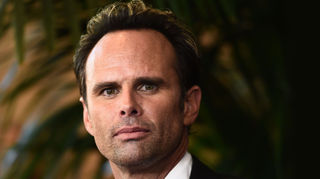 (Image credit: Unknown)
Walton Goggins is on the cusp of superstardom. With scene-stealing roles in TV's Justified and The Shield under his belt, it's his role as a duplicitous sheriff in Quentin Tarantino's ace new western The Hateful Eight that proves he's a stand-out star. We asked him how we went about preparing for one of his toughest roles ever.
What did you think when you first read the script?
"I can't believe I'm in a Quentin Tarantino movie!" You know, I've been around a long time, but you absolutely take the invitation to go on the Tarantino train. It's such an anomaly for most actors, as he has a group of people that he likes to work with. If you do the math, what is it? A hundred actors in the world who have been invited to participate with one of the most important auteurs of his or any other generation… For me, to get that invitation and to be given that opportunity is a great thing.
Who did you tell first?
I like to get away after I've finished a job – I just go by myself for a week, to clear my head. I'd just landed in Mexico and was on my way to pick up my rental car with this couple who were there vacationing. They happened to be big fans of mine, and they were saying some lovely things. I was blushing and trying to steer the conversation someplace else when my phone rang.
I pulled it out and they're sitting right next to me, and it said Quentin Tarantino. We all looked at it at the same time and then they said, "I think you need to answer that" so I did. So they were the first people that found out, and then once it was confirmed, I told my wife. I tend to keep that stuff pretty private, man, I don't like to tell a lot of people anything until it's done. For me it's very personal, and I don't like to dissipate the energy that surrounds something this special.
No Facebook posts then?
No man, that's not my style!
Your co-star Channing Tatum said he was intimidated with it being a Tarantino film, plus being surrounded by all these great actors. Do you understand that feeling?
Oh my God man, when I did Django Unchained with Quentin, every actor has to overcome the acute insecurity and anxiety of working with one of the best. There's no better writer of dialogue in my opinion, the man is a lyrical poet. So thankfully I didn't have that the second time – I know him, he is a friend and I know his art and his approach to the work. But when it came to the cast, I just had to collect my thoughts and walk in because I didn't know Kurt Russell, I didn't know Bruce Dern, I'd never met Tim Roth or Michael Madsen and all their shadows loom so large.
As soon as I walked in, Quentin said, "OK, we've been rehearsing for a day now, we're onto your stuff Goggins, here we go". I'm looking at this 150-page script, I just exhaled and Sam [Jackson] leaned over to me and said, "You got this, motherfucker". Then it was off to the races. All of those people, all of those icons and their body of work that we've seen over the course of their career, the accumulation of that can at first feel like Mount Everest, but two minutes into it, once they understand that you are there to play ball and ego has no place in it, they welcome you with open arms. So now they're just not icons to me, they're my friends.
It didn't seem like the most comfortable set – how much was filmed out in the elements?
All of it, every part of it, 18 hours a day. When I first went out on set, I had two jackets on and Quentin was standing there and he said "Yeah, take that jacket off" so I did, then he told me to take the other jacket off. Then he goes "You cold?" and I said, "Yes sir, I'm pretty cold". He said "Good, that's exactly what I want you to be". So it was five months of freezing until Mannix acquires the jacket of someone in the movie that I can't say without ruining it...
Did you have to do any specific fitness training to prepare for the film?
When they told us we were going to be doing this in Telluride, Colorado, we were a little concerned, man, because it's cold and is at 10,000 feet. When I arrived at the place, I got a welcome basket from the producers – in that pack was three canisters of oxygen. I'm used to getting wine, so thank God I spent the last six months just doing cardio, really getting my resting heartbeat down. That way I wouldn't be winded and would have the energy to give service to the incredible monologues that Quentin had written.
How would you rate your fitness on a scale of one to 10?
I'm a smoker, I don't want to lie about that, and I'm at a place in my life – I have a son now – where I'm going to give it up after this experience on the road, but it's nothing for me to run five or six miles right now. I work out five days a week, so I'd say it was quite high.
I did a movie early on called The Next Karate Kid, and it was training for that movie that really changed my life physically. I then became a personal trainer and found great joy in motivating people to make exercise a part of their daily routine. So I've spent the last 24 years of my life being physically active in one way or another.
What do you do, fitness-wise?
I'm in a very rewarding part of my life, in how I look physically and how comfortable I've become in my own body. I started doing push-ups, pull-ups, calisthenics, some snatch and grab stuff with very low weights and a lot of jump rope. I'm in better shape than I've ever been in my life, and I love it. So I go from the gym, to yoga, to running, to just walking.
Do you manage to combine training with your career successfully?
I'm on camera, so there could be a certain amount of ego involved with that, but when I'm working, it's about the story and how best to tell it. The way I treat fitness shouldn't be any different to anyone else – when I'm working I don't have time for a lot of things, but I always have time to go the gym. With regards to your mind, your heart, your relationships and your ability to think – all of that changes when you have physical exercise as a part of your daily routine.
The Hateful Eight is in cinemas now
Sign up for workout ideas, training advice, reviews of the latest gear and more.
Gary Ogden wrote for the print edition of Coach between 2015 and 2016, writing features, interviewing celebrities and covering entertainment. He has also written for ShortList.