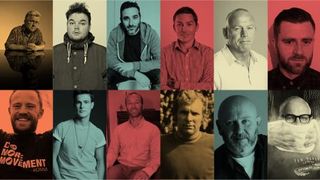 (Image credit: Unknown)
Good pieces of advice are like nipples: everyone's got at least two and some have three – or so I thought, but when it came to sitting down to think about the great advice that had served me well over the years, I could only remember one knockout gem. That's one I was told when I was 15 and still abide by to this day: "Always go to the barber with the worst hair." The idea being that they all cut each other's, so he'll be the talented one in the shop. It works in the general sense that my hair has never been disastrous.
With nothing else springing to mind, I asked my dad for the best piece of advice he'd ever received and he said that my grandfather had told him to always stick to his principles, even if it made him unpopular.
Then I went in search of some other "wise men", with my criteria being that they had either spent much of their professional lives in the company of other men, or that they had risen to the top in a challenging profession. My question to them was: "What's your best piece of advice?" Here's what they told me.
1. Perry Groves, Ex-Footballer
2. Lloyd Griffith, Comedian
3. Ray Kelvin, CEO, Ted Baker
4. Canon David Isherwood, Vicar
5. DJ Yoda, Turntablist
6. Daf Palfrey, TV Director
7. Ken P, Headmaster
8. Dr Jack, Sex and Relationships Expert
9. Dr Kofi Nimako, Consultant Physician
10. Alexi Lubomirski, Photographer/Polish Royalty
11. Lee Broom, Interior Designer
12. Dave Whittaker, Pub Landlord
13. Brent Mossop, Barber
14. Mike Hill, Bishop of Bristol
15. Gideon Black, Rabbi
16. Moose Allain, Twitter Royalty (@MooseAllain)/Artist
17. Ian McMillan, Poet
18. Anthony Hunt, Cabbie
19. Matt Holland, Ex-Footballer
20. Michael Deacon, Political Satirist
21. Jeremy Johnston, Personal Trainer
Sign up for workout ideas, training advice, reviews of the latest gear and more.