NBA Legend Muggsy Bogues: "At 5'3" I had to understand the game differently"
The basketball star on training, dunking and being the shortest player in NBA history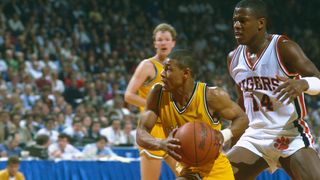 (Image credit: Unknown)
In a game full of giants Bogues struck an unlikely figure on the court. But over his 15-season career, the point guard's success paved the way for other smaller, skilful players. Oh, and more importantly he was in Space Jam.
Basketball has no shortage of giants. What made you want to pursue a game full of men nearly a foot and a half taller than you?
At first it was a hobby, it was something to do in the neighbourhood. I got my first basketball when I was three. It was just this big brilliant object that I couldn't control. As I got a little older I just had fun with it. There was sometimes that criticism about my height but I didn't pay much attention.
Playing for the NBA was far away in the back of my mind when I was a young kid. Wasn't nobody small out there in the NBA who I could base my game on.
So when did you think you could turn pro?
I had a neighbourhood friend who was my hero. He was small and played the game very well. That's who I based my game on. It made me think, "I can hang with these guys."
Is there a strategy for playing against bigger players?
There's no fancy strategy it's just about understanding the fundamentals of basketball. I had the natural talent and the position I play [point guard] calls for skill above all else. I spent a lot of time in the gym understanding the game because of my size. I had to understand it differently. I had to have the same impact as a seven footer.
How do keep that focus on training for so long?
Working out was always something that I loved doing. Training is when you get better. You don't get better by playing. You get better by practising things over and over. You always have distractions that'll keep you from the path but I knew what my goal was and I knew what I wanted in life. On the street where we grew up guys was selling drugs or living that fast life style, while we were trying to figure out how to keep playing this game.
It kept my mind off it. There was never an excuse to not go and train, even when I got to college. It was part of your DNA; it became part of me.
What about when the money started rolling in? Do those distractions make it harder?
Nah, it makes you work that much harder because somebody is after your job. You can't just exhale and feel like it's all over. You've got to stay sharp. I changed a lot of mindsets with small players. I came up in an era where coaches like big guards.
Do you take any pride in being the shortest ever NBA player?
Yeah it's a good feeling. You're trying to make history so it's always a good feeling. It's an ultimate moment for me.
How can someone improve his or her vertical dunk?
Fortunately for me it's genetics. I wasn't a guy that lifted weights when I was a kid. I rode a bicycle. That was my form of transportation in the city when I was growing up. So riding about and doing a lot with my legs got them strong. I was really powerful at the time.
I was actually afraid to lift weights as I thought I was going to get too big and slow. I only started lifting when I got in the NBA and realised it'd help.
There's some debate online about whether or not you can dunk. Can you clear that up for us?
I never dunked in an NBA game… but I can dunk a basketball no problem.
Muller Rice is proud to partner with the NBA to help athletes go distance.
Sign up for workout ideas, training advice, reviews of the latest gear and more.
Coach is a health and fitness title. This byline is used for posting sponsored content, book extracts and the like. It is also used as a placeholder for articles published a long time ago when the original author is unclear. You can find out more about this publication and find the contact details of the editorial team on the About Us page.