How to Prep for a 444 Mile Canoe Race like a Man
Or this man, to be exact: Andy Torbet, Coach's adventure correspondent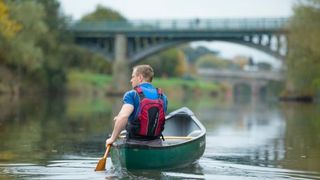 (Image credit: Unknown)
During his time in the army as a diver and bomb disposal officer, Andy spent his days clearing Iraqi ports of mines and booby traps – an activity he describes cheerfully as "fruity".
Now the former paratrooper has turned his post-forces attention to adventuring, extreme diving and skydiving – plus the small matter of the world's longest and most demanding canoe race: the 444-mile (715km) Yukon River Quest in Alaska.
Coach will be checking in on Andy fortnightly, as he preps his body and mind for his most punishing adventure yet. Take it away, Andy…
The Challenge Ahead
I should start this training blog by explaining exactly what I'm training for. The Yukon River Quest Race is a 444-mile canoe race. Now 444 miles is a long way to paddle at the best of times but it's made even more cheeky when it's non-stop.
The purest way to race is in a traditional open two-man Canadian canoe like the ones used on this river by the native population for generations – and now by modern-day idiots out to punish themselves.
While I'm not starting out as a complete beginner (I used to be a sea kayaking guide), I will still have to learn new methods and build a whole different level of fitness.
That means building a body robust enough to cope with a physically demanding, repetitive, continuous action for up to 60 hours. There are also new skills to learn, as well as working out the strategies and equipment I'll need, not to mention testing everything in real conditions.
I have 22 weeks to prepare but can't devote all my training time to this as I still have a number of underwater exploration and record-breaking skydiving projects to prepare for, as well as the work that pays the mortgage.
The challenge has more likelihood of failing due to a case of a pulled this or a strained that, rather than a lack of fitness. So the goal is to make myself more robust against injury – of which I have many. Everything from a broken back to torn shoulders picked up from ten years in the Army and another ten making a living from cave-diving, climbing and jumping out of planes.
On top of my normal training, which will all help to create a strong foundation, over the next four weeks I also plan to:
Focus on core strength, and spinal and shoulder health and mobility to ensure my body is as injury-resistant as possible.
Work on paddle-specific fitness by getting out on rivers a minimum of ten hours a week.
Work on canoe paddling techniques to ensure maximum efficiency.
Complete a 28-mile (45km) race.
Every two weeks I'll be posting about my progress (and hopefully not too many setbacks). I'll also include paddling routes and advice on great spots to start on you own river adventure.
Sign up for workout ideas, training advice, reviews of the latest gear and more.
Andy is a professional cave diver, freediver, skydiver, climber, stunt performer and TV presenter. Between 2015 and 2016 he was the adventure correspondant for Coach and Men's Fitness UK, which predated, and then shared a website with, Coach.