Poker Legend Daniel Negreanu on What Separates Successful Players from Wannabes
Canadian poker titan Daniel Negreanu reveals the advice he received from Chip Reese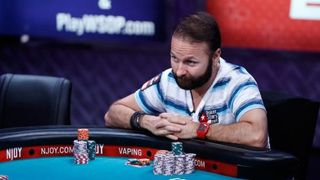 (Image credit: Unknown)
When you first started playing poker, did anyone take you under their wing?
The person I learned the most from was [two-time World Series of Poker event winner] Jennifer Harman. She played high-stakes cash games, and she'd let me sit behind her and look at her hole cards. I met her when I played my first tournament in the World Series of Poker – she was dating [WSOP event winner] Todd Brunson, who'd staked me. I reached the final table and Todd couldn't be there, so he told Jennifer, "Go watch this kid and make sure he doesn't steal the money from us!"
So she came to watch me play and I won the thing.
Has anything a poker player said in an interview stuck with you?
Chip Reese [three-time WSOP event winner] said something like: "When we talk about the greatest players, don't compare A games versus A games. Compare F games to A games, because there's people who can play great when they play great, but if they play really badly when they play badly and they don't have the discipline, then they can't be the best player in the world." It taught me that when you're at your best, it's important to play good, but when you're at your worst, how do you handle that kind of pressure? That separates successful players from wannabes.
If someone loses a big pot, do the other players empathise?
Poker's not a game of niceties, it's a game of "Give me your money!" Sometimes, in those moments, there'll be something as simple as a gesture, or a head shake, or a look that says, "I'm sorry about your luck".
If a player busts out of a big tournament, is there support from the other players?
Oh yeah, especially in the Main Event of the World Series of Poker. It's a very emotional moment for people to be involved in. If someone's eliminated deep into that tournament, everyone gives them the handshake and the hug, and the moment of empathy. It's a nice gentlemanly thing to do.
Which pro players will stick up for amateurs at the table?
[Five-time WSOP event winner] John Juanda. We had a situation at a World Series event where an amateur who didn't speak good English was being taken advantage of by a pro, who had a better understanding of the rules. John stepped in, spoke out, and ensured that the player wasn't taken advantage of.
Will players stand up for the dealer, if someone is abusive?
Yes. At [Vegas casino] the Horseshoe once, [late, five-time WSOP event winner] Stu Ungar lost a few hands in a row, got his penis out and started peeing on the dealer's leg. The other players alerted the floor staff and he was escorted out of the building.
Have you had any low points when your friends have been there for you?
Many! In my early years, I didn't have good bankroll management skills. My confidence was so high, I'd play whether or not I had sufficient money. I knew my friends had faith in me to lend me money and get me back on my feet. Jennifer Harman and [WPT Champion and six-time WSOP event winner] Ted Forrest would help me out when I'd blown my bankroll.
Who are you happiest to lose your money to?
It's uncomfortable for me to play against Jennifer Harman, because of all she's done for me – so if I lose a pot to her, it doesn't hurt at all. I know it's going to a good place. Jennifer is very genuine. If she's pissed off at you, you will know. If she likes you, you will know. If she's angry, she'll have her moment, then giggle about it later. She's authentic.
Daniel Negreanu is a professional poker player for Team PokerStars
Sign up for workout ideas, training advice, the latest gear and more.
Samantha Rea is a freelance journalist living in London. She writes about poker, peccadilloes, filth and feminism. She has an MSc from the London School of Economics and she likes an Old Fashioned.