Vassos Alexander: "No Good Ever Came from Giving up"
The BBC Sport reporter and avid runner on breaking through "the wall", what makes a champion and whether anyone can run a marathon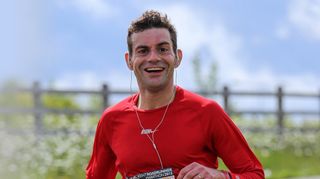 (Image credit: Unknown)
Which runner do you most admire?
There's a guy called Joss Naylor, an 80-year-old fell runner, who is really quite extraordinary. When he was young, the doctors told him he might not be able to walk properly, let alone run, but he's still going strong today. He set so many records, like running 100 miles up and down 72 peaks in the Lake District in under a day, but the most remarkable thing about him is that he's also a full-time sheep farmer. After he finishes an endurance race, he goes out into the fields to crack on with his job.
What makes a champion?
Elite athletes need to have something abnormal about them, certainly when it comes to what they are prepared to put their bodies through. You can usually see it in the pain on their faces. Look at Paula Radcliffe, a picture of agony, or what Andy Murray puts himself through.
Runner and London Marathon co-founder Chris Brasher described running a marathon as "the great suburban Everest". Can literally anybody do one these days?
Oh yes. With proper training for a few months, even a total couch potato can get round 26.2 miles, so long as they're not expecting to break any records. I've managed to get most of my colleagues at Radio 2 into the sport.
RECOMMENDED: How to Train for a Marathon
What do you love about running?
I enjoy the fact that my subconscious can reset itself while I'm out there. If you saw me pounding the streets, you might think I look cold, wet and tired, but my senses are alive, and flooding my brain with positive messages. You connect with your surroundings very deeply when you're running in them. I was in the Peak District recently, and when I ran up the first hill it seemed like the whole of England was unfolding before my eyes. It hit me with a visceral thud in the gut how lucky I was to be doing this right here, right now.
Which record will never be broken?
I would love to live to see a sub-two-hour marathon, but I don't think I will. There have been papers published examining how it might be possible, if you did it in the Arctic, and with pacing runners in an arrow formation to shield you from the wind, but even though the current record is only three minutes away, that's a huge gulf.
Are we "born to run"?
Yes, running is what human beings are meant to do. And distance running in particular. We're not particularly fast, but our ancestors would hunt down prey by keeping going, and wearing them down. Humans are thermo-regulators, which basically means we can sweat when we're hot – which dogs and many other animals don't do – so our endurance is excellent.
How do you cope with hitting "the wall"?
Just keep going. Don't worry about the big picture, just get to that next tree, then that lamppost, then that mile marker… I have come close to giving up in a race a few times, and I'm so glad I didn't. If you know you're not doing very well, and your time is going to be rubbish, it can be tempting to jack it all in and go home. But overcoming that temptation is as much an achievement as the actual running, and life has taught me that no good ever came from giving up.
What do you think is the greatest achievement in sport?
What got me into sports journalism was hearing all the tales of yore. My dad was at Oxford, and he used to tell me about Roger Bannister breaking the four-minute mile on the track there. That moment had such power, it captivated and united the world. But, astonishingly, Bannister himself does not even consider it to be his greatest achievement. He went on to be a professor of neurology at Oxford University, and he's more proud of his research into the human nervous system.
Who is the bravest sportsman you've met?
It's hard to go much further than Tony McCoy. The list of his injuries is a mile long. The Manx TT is genuinely terrifying, too, so anyone who rides in that. But there's also a less obvious bravery than facing down your fear of broken bones or death, though. How about the courage of an Olympian who puts four years of their life into one moment? Tom Daley, say, on the high board knowing that a tiny mistake will unravel all the work he's done. Anyone who can stare that fear down and still perform gets my admiration.
Vassos Alexander's book about marathon running, Don't Stop Me Now, is published by Bloomsbury on 24th March. Order on Amazon
Sign up for workout ideas, training advice, reviews of the latest gear and more.
Grub Smith contributed interviews and features to the print edition of Coach, which ran from 2015 to 2016.