Rupert Evans: "If I Don't Exercise I Act Like an Animal"
The actor on the fitness connection between a man and man's best friend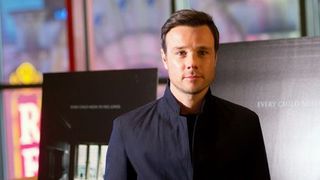 (Image credit: Unknown)
Fresh from season one of the acclaimed The Man In The High Castle and starring in this month's ridiculously creepy doll-horror The Boy, Rupert Evans is on top leading-man form. But with a busy schedule on his plate, how does he keep in movie-ready shape?
How would you rate your fitness on a scale of one to 10?
I've just been on holiday, so it's probably a five at the moment. I haven't done much exercise lately, and there was a lot of eating.
How important is health and fitness to you?
It's very important, but weirdly, it's not so much the physical side of things, it's more the mental. If I exercise, I'm more positive, I feel more up for challenges, and I'm just in a better mood – I treat people better, too.
What do you do, fitness-wise?
With work, whenever I get to a new city, on the first day I just whack on my trainers and start running, because it's a great way to get to know a new place. After about three or four runs, you get a good understanding of your environment. Running in Budapest was absolutely stunning – it has the Danube running through it, and it also has Margaret Island, which has its own running track. It's a couple of miles long and it's fantastic, because you run around the edge of the island and you can see the whole of the city.
How is your fitness fingerprint unique to you and your career?
As an actor, I'm self-employed and it's kind of a high-risk game – I have no idea when I'm going to get the next job and be able to pay the mortgage. There's a kind of positivity needed, and a level of self-belief – it's a very creative job when you're doing it, but it can be quite frustrating when you're not. All the good actors I know all think they're never going to work again after a job, so fitness really helps me with that – it allows me to keep positive through the ups and downs. It's incredibly integral to my life. If I don't do any exercise for about a week I get really grumpy. My wife compares me to a dog: if I don't get my exercise I act like an animal if you don't walk it. I need to be walked, and if I don't do that, my tail drops and I start shitting in the house…
The Boy is in cinemas from 18th March
Sign up for workout ideas, training advice, the latest gear and more.
Gary Ogden wrote for the print edition of Coach between 2015 and 2016, writing features, interviewing celebrities and covering entertainment. He has also written for ShortList (opens in new tab).