Idris Elba Interview: "If I Fail, I Fail, but I Just Won't Quit"
The A-Lister tells us how how he got his body, a DJ career, a fashion line, the UK land speed record…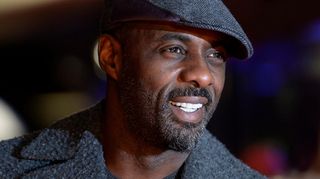 (Image credit: Unknown)
Actors are always working on "other projects". New fragrance? Check. Fashion line? Check. Giving back to the community? Check, check, check. But the vast majority are still actors at the end of the day (even if Whiff for men is selling remarkably well). Idris Elba is working on things outside acting, but to think of them as side projects would be to sell them short. They're careers in their own right.
It's meant Elba, 43, is respected in more than one industry and maintains a broad appeal. His film fans might not be as interested in his musical career, performing as DJ Driis, while revellers in Ibiza don't need to appreciate his roles in Thor and Pacific Rim to enjoy good house music. And in between cinema and music, he designs his own clothes, directs music videos and has even found the time to beat the "Flying Mile" UK land speed record. That's right, the man who played Nelson Mandela hit a top speed of 180.4mph (290.3km/h) along a wet beach in Wales. To hear him tell it, at that speed the car essentially becomes a hovercraft.
How on earth does he get it all done?
"Everything I do is part of a family of things," says the father of two as he offers Men's Fitness some popcorn in a hotel room in central London. "Working with my clothing, with my music and my film all somehow fit together. My production company is also part of the connective tissue, so nothing's a bolt-on. It's not 'bolt stuff on to Idris'."
For a man who occasionally refers to himself in the third person, Elba is very down-to-earth about his busy schedule. ("I sometimes sit down and go, 'Jesus Christ, I do too much!'") He says he's learned to get by on less sleep but admits that as he gets older and busier, it's becoming harder to do.
Sleep deprivation isn't Elba's key to getting things done. It's about how you think about time and your commitments. "Say you want to learn how to play the guitar and need to practise for ten hours a week," Elba says. "No-one's got ten solid free hours a week. But if you do two hours after work each day, you'll make up the time easily. It's about setting a target and putting the time in.
"Although I wear a watch, I don't watch the time," Elba says, waving his wrist as proof. "As soon as I start focusing on the details of something, it becomes so much harder. It's the same with exercise. If I start counting lengths when I'm swimming, I struggle, but if I put my head down, I end up popping up and going, '22 lengths? Woah!'"
He stresses how important it is not think of your day job as a burden. "Your day job gives you financial support while you try new things. You're not going to be sitting on your mattress one day and then suddenly running an empire the next."
It's obvious that Elba is having fun. This isn't just work for the sake of staying busy or relevant. He describes the feeling of breaking the land speed record as like the moment when you look in the mirror while wearing a new pair of trainers, and you do a little jig and think, "Yeah, look at me". After all, what's the point if it's not fun?
It's an attitude he takes into his training. "I don't do any gym routine, I can't… it's just boring," he says. Instead he attributes his fine shape to kickboxing. "If it's fight training, I'm all over it. The best physical shape I've been in is when I've been kickboxing. I could go to a gym all week and feel nothing, but training kickboxing every day… monster."
Again, Elba isn't just paying lip service and hitting pads. "My next No Limits documentary will be about me going from amateur to pro, and I'm going to have a muay Thai fight in Thailand," he says, balling his fists. "I'm going to train hard for that. I don't want to get beaten up."
But isn't it easy to speak like this from a position of success? "Definitely, I do contemplate that it might not have worked out the way it has," says Elba. "But I'm a determined person. I've always been determined to see it through. Everything that's happened to me, good or bad, has got me here today. If I fail, I fail, but I just won't quit."
Is it fair to call Idris Elba just an actor? Certainly not. He's so much more.
Sign up for workout ideas, training advice, reviews of the latest gear and more.
Matt joined Men's Fitness in April 2014 as features writer after spending several years writing for a luxury lifestyle magazine, swapping champagne and canapés for cardio and leg days.
Matt is a keen Thai boxer and his interest in fitness took off when he made the decision to compete semi-professionally and had to get in shape. Training aside, he says the worst thing about fighting is resisting the urge to apologise all the time.
Oh, and he's still on the look out for a decent fight nickname after being told 'The Best' was reaching a little bit…
Favourite move: Any kind of squat variation
Favourite sport: MMA and Muay Thai kickboxing
Personal best: Competing in a semi-pro K1 bout
Targets: Sub-1hr 40m half marathon and winning a fight by KO
Scariest MF moment: Writing about myself in the third-person for this profile
Favourite MF website story: Spider-Man workout (opens in new tab)
Favourite trainer quote: 'Hands up, chin down' – every striking coach ever
Biggest gym crime: Avoiding the weights and sticking to the treadmill