Al Murray Outstepped Tess Daly for Sport Relief
He won Fitbit's Steps for Good challenge, but lost his love-handles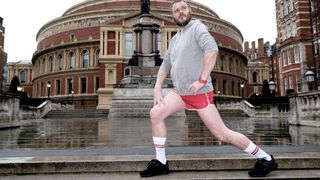 (Image credit: Unknown)
Al Murray's alter-ego The Pub Landlord is a portly, beer-swilling, opinionated loudmouth but, in reality, the man behind the pints is firmly at the opposite end of the spectrum. So how does he keep his waistline in check in between all the on-stage swilling?
What did you do for Sport Relief?
I did the Fitbit Celebrity Step-a-thon. Tess Daly and I had to try and achieve 100,000 steps between us in five days – I beat her hollow, so I'm quite pleased with myself. I did 109,000 steps, and she did something in the region of 60,000. Smashed it. All the journeys that I'd have normally done by tube, I walked. I think I walked about 16 miles. My love-handles have gone, too.
How would you rate your fitness on a scale of one to 10?
I would say I'm probably a good seven at the moment – I think I'm blessed with quite a good level of "natural fitness". Also, when I'm gigging, I do a show every night, which involves me walking and talking for two hours solid, so that keeps me pretty fit, in a hidden way. But I'm not a gym bunny.
What do you do, fitness-wise?
I can't bear running, it's boring and it makes me feel dreadful, but I love going for a good long walk – you can have a proper think, listen to some music or a podcast, or make calls. I also play the drums – if you do that for an hour or so a day it's really good for your cardiovascular fitness. Clem Burke, the drummer from Blondie – they hooked him up to a load of machinery and found that he was athlete-fit just from playing.
What will you never do again?
I remember I had some TV work coming up, so I went for some boxercise and at the end of it, I just thought, "You know what? I don't mind looking a bit chubby on television." It puts weight on you anyway – people always tell me I'm not as fat as they thought I was on the television. It really is the cameras – it's 10lb a camera, and we used to have ten cameras...
Al Murray and Tess Daly took Steps for Good in the Fitbit Celebrity Step-a-thon to raise £100k for Sport Relief.
Sign up for workout ideas, training advice, reviews of the latest gear and more.
Gary Ogden wrote for the print edition of Coach between 2015 and 2016, writing features, interviewing celebrities and covering entertainment. He has also written for ShortList (opens in new tab).