Healthy Specimen: Ortis Deley
The gadget-loving TV presenter on the weirdest fitness tech he's ever seen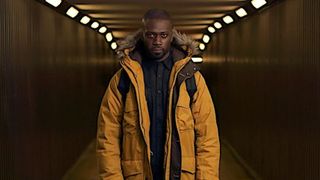 (Image credit: Unknown)
What's your most impressive personal best?
It's not a specific weight or time but I train with blokes half my age – I get more injuries as a result, but I'm quite proud of the fact that I'm able to pretty much keep up with them.
Have you ever pulled a muscle in less-than-heroic circumstances?
Oh yes, cramp is my biggest enemy. When I was at school, I could lie on my front and touch the top of my head with my toes – I tried that a couple of weeks ago and both hamstrings cramped up.
How many press-ups can you do in a row?
I wish we were doing this interview last year. I'm recovering from a torn rotator cuff, so I only just started going back to the gym, but at my best I could probably squeeze out 70 plus. Right now I'd be very proud of any number between 20 and 30.
Which excuse for not going to the gym/working out are you most ashamed of?
She'll probably hate me for this, but it's my wife. On the weekends, which should be good days for me to go to the gym because I'm not normally doing anything, my wife and I have recently become huge fans of the lie-in. It's an excuse that has been far too effective of late, but I have desires and dreams to change that.
What gym equipment can't you live without?
Whenever I go to the gym I always try to use the dip machine and the pull-up machine. At one point I could knock out about 17 or 18 pull-ups in one go, but I'm struggling now to get to eight. I do have an injury though. I do have an injury!
What's the most extreme thing you've done in the name of good health or fitness?
It's funny how raising money for charity brings out the stupid in you – the feat I'm most proud of was a cycle ride from Tooting to Portsmouth. It took us through the South Downs, which was a gorgeous view, but it took us about five hours and was around 80 miles. I was walking rather oddly for a short while afterwards.
Have you ever bought a piece of exercise equipment but never used it?
I have a Reebok step, I have medicine balls, I've got skipping ropes – oh, this is terrible – there's wrist exercisers, even ones where you exercise individual fingers, I've got exercise bands, a bosu ball. This list is quite long, don't snitch on me.
What's the weirdest fitness gadget you've ever encountered?
We featured it on the show – it was like the midriff of a racing horse. You straddle it and put your feet in the stirrups, then the machine below would simulate a horse riding at varying speeds. You looked absolutely ridiculous.
Ortis Deley presents The Gadget Show on Channel 5, and is supporting Macmillan Cancer Support's urban obstacle race series Adrenaline Rush, where 35% of all entrance fees go to Macmillan Cancer Support. Next race: London May 21st, theadrenalinerush.com
Sign up for workout ideas, training advice, reviews of the latest gear and more.
Gary Ogden wrote for the print edition of Coach between 2015 and 2016, writing features, interviewing celebrities and covering entertainment. He has also written for ShortList.