Akon: "Sometimes You Pray the Hotel Doesn't Have a Gym"
The ubiquitous R&B star on how fitness is hot on his heels, wherever he goes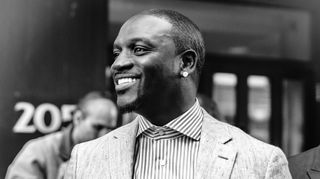 (Image credit: Unknown)
As a recording artist, Akon has topped charts the world over, and his charity – Akon Lighting Africa – provides electricity to 15 countries in Africa. His latest venture sees him team up with Shell and DJ Hardwerk to release Tell Me We're OK, a song released in connection with the unveiling of a human and solar-powered football pitch. So how does he manage to squeeze in time to look after himself?
How would you rate your fitness on a scale of one to 10?
Well, currently I'm a 10, obviously! I love football, and I grew up playing it. The problem is, at the time soccer just wasn't really a big thing in the States and there was nowhere to go after that. Then eventually I got caught up in things I shouldn't have, found myself getting locked up before finally flying into the music side. Now I'm on stage jumping up and down for an hour every other day, so fitness follows me naturally.
How do you exercise on the road?
With that, it's a little bit tougher, because half the time when you finally get to the hotel, you're beat and you just want to relax – sometimes you pray the hotel doesn't have a gym. But when they do you know you've got to take that time out and get 30 minutes in – you don't have to do anything strenuous, you've just got to get your blood pumping.
What will you never do again?
I'm not a fan of running, so I prefer to bike. If I can see the sights and check the girls out jogging, then I'm cool.
How is your fitness fingerprint unique to you and your career?
We travel to all these crazy areas and we're not eating properly. We don't get the chance to work out, and ultimately you put yourself in a position where your body is straining just to operate. So we definitely have to work to live and eat to live, not live to eat, you know?
The Tell Me We're OK video from DJ Hardwerk [feat. Akon] is part of Shell's #makethefuture campaign
Sign up for workout ideas, training advice, reviews of the latest gear and more.
Gary Ogden wrote for the print edition of Coach between 2015 and 2016, writing features, interviewing celebrities and covering entertainment. He has also written for ShortList.