Healthy Specimen: The Reverend and the Makers' Jon McClure
The Reverend and the Makers' frontman on the dangers of fighting with a cupboard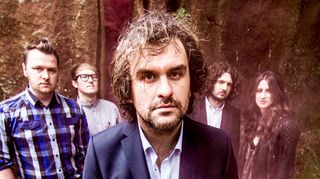 (Image credit: Unknown)
What's your most impressive personal best?
I don't know mate – can't say I'm a massive fitness freak to be honest. I've played in a couple of charity football matches at Wembley, and running the length of that pitch is pretty difficult because it's massive, so I'd probably put that up there. Simon [Webbe] from Blue was on our team – he's a very good player – he probably should have been a footballer instead of a musician, that way he'd have saved us from his music, which would have been perfect for everyone.
Have you ever pulled a muscle in less-than-heroic circumstances?
I got jumped at a football match at Sheffield and had a bad back for a while. I attempted to play football on the Sunday with said bad back – it just looked and felt horrific, made me feel like I was about 83, it was bloody awful.
What excuse for not going to the gym are you most ashamed of?
I ripped my toenail off once; I used that as an excuse when there was essentially nothing wrong with me. I basically kicked a cupboard and my toenail fell off – believe me, it looked awful but it's not a reason to not go to the gym, I could have swam or something.
Would you say you've ever secretly impressed yourself with a feat of strength?
I took my little boy for a walk last week, and I forgot to take his pram or his sling, and ended up carrying him for like four miles on my shoulders, which I thought were pretty hard, pretty solid…
What's the longest you have gone without alcohol in the name of good health?
When I went on my mate's stag do in Hamburg, I got absolutely battered and just felt like death, so I didn't drink for maybe two weeks then. I also stopped drinking when I was 18, for about a year and a half. Because I'm a big lad I used to get served from when I was 14, so I'd been drinking for a number of years before I gave up. I'm not a massive alcoholic, I'm more of a smoker, but I do like a tipple.
Have you ever bought a piece of exercise equipment but never used it?
Yeah, I bought an exercise bike from the shop across the street, took it upstairs to the attic bedroom where me and my wife used to sleep, stuck it in there, and she was like, "What the f**k is that?" I'm like, "It's an exercise bike," she's like, "Yeah, from about 1983." So it's absolutely knackered, it cost me £20 and I used it once, before deciding it was rubbish.
Would you count performing as a workout?
Definitely – it's pretty high octane. We pretty much have it from the word go, the whole crowd goes off and everyone is bouncing. So I'm sweating my t*ts off when I come off, which is enormously sexy.
Reverend and The Makers will be playing at this year's Isle of Wight Festival on June 9-12, tickets available at isleofwightfestival.com
Sign up for workout ideas, training advice, reviews of the latest gear and more.
Gary Ogden wrote for the print edition of Coach between 2015 and 2016, writing features, interviewing celebrities and covering entertainment. He has also written for ShortList.