Mark Webber: "I Bloody Wanted This Career"
Porsche's Le Mans 24-Hour pilot and the ex-F1 driver on the people who bought raffle tickets to get him there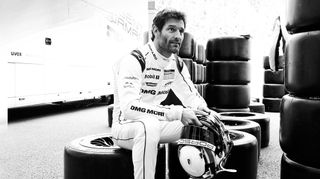 (Image credit: Unknown)
Your autobiography is called Aussie Grit. Do you think being Australian helped you make it as a sportsman?
No, it made it harder. My sport is based in Europe, so I had to leave my family and all the comforts of home behind. There was no Skype back then in the mid-'90s, so I was much more isolated than, say, a young English driver would be. But I never saw it as a sacrifice. I bloody wanted this career, and if it didn't work out, I was going to go back and get a job at the local petrol station knowing I'd tried my best.
Who helped you make it?
I grew up in a little country town in New South Wales, and when I left for Europe the community held a raffle to help me out. Some of the prizes were a bit rubbish – I think you got some oil for coming third – but they raised enough for me to get to England and buy me a car, a B reg Fiesta that cost £500. By my second year, I was really up against it financially, right on the brink of coming home, when David Campese, the rugby union great, chipped in to keep me racing for one more month. I won my next race, and then Mercedes-Benz signed me to a long-term contract. Those four weeks that Campo paid for were absolutely pivotal in my career.
Which opponent did you most respect on the track?
Rubens Barrichello, Jenson Button, Fernando Alonso. And I had some great battles with Lewis [Hamilton], too. We've all made some rash moves on each other with our helmets on, but that's the nature of the beast. At the end of all of it, I can still shake their hands. That's what's important to me.
And who was the best company after races?
David Coulthard, no question about it, he's top of the pops by a long way. We used to release the pressures by having a little drink and telling a few lies about how awesome we were.
What makes F1 drivers special?
Our peripheral vision and balance have to be exceptional. We can read situations in a slower frame rate than the general public, which is why we can go wheel to wheel with each other at 220mph in the lashing rain.
Which Grand Prix was most challenging?
Suzuka in Japan. It's a very fast track, there are high G-forces, and it's an old-style circuit so it lacks the modern safety requirements. You have to be incredibly accurate there. I preferred Monaco. The penalties are still there because there are plenty of barriers, but it's really you against the track. I never really thought about racing other competitors there, I just thought if I can "mind manage" myself through the whole weekend of qualifying and racing, I'll do pretty well. If you go wrong just once, you're suddenly playing catch up, and you're like a golfer getting a bogey then another as he tries to overcompensate.
What's the best thing about endurance racing?
In F1, there's really only a couple of other guys you're racing against on the day, but in an event like the Le Mans 24-Hour, the track is crowded with different categories of driver, all racing at the same time. Our Porsche is best car, but the most challenging part of our job is overtaking the guys who aren't professionals, because we have to manage their skill level. It's very dangerous.
Who gave you the best advice?
Sir Jackie Stewart has been a great counsel for me. He's very modern in his thinking despite his age, and he's seen a lot. He's also been through immense adversity, losing so many of his friends through racing, and I was very thankful for that when people I knew were killed on the track.
What advice would you give to a normal driver who was about to have a crash?
Definitely let go of the steering wheel and put your arms across your chest. Things like seating position and seat belt height are very important – all the stuff you take for granted when you get into a car, you want all that in your favour. I never had any religious thoughts, but there were a couple of bad crashes where everything slowed down and I thought, "this time it might be over". I recall thinking that I don't want any pain and I hope it ends quick. Luckily, I always came out the other side.
Mark Webber is driving for Porsche in the Le Mans 24-Hour race on June 18-19. Buy Aussie Grit: My Formula One Journey on Amazon
Sign up for workout ideas, training advice, reviews of the latest gear and more.
Grub Smith contributed interviews and features to the print edition of Coach, which ran from 2015 to 2016.